Unlock passive earnings with BTEX
Earn up to 6% APY on your BTEX holdings! Receive monthly yields in an easy and secure way.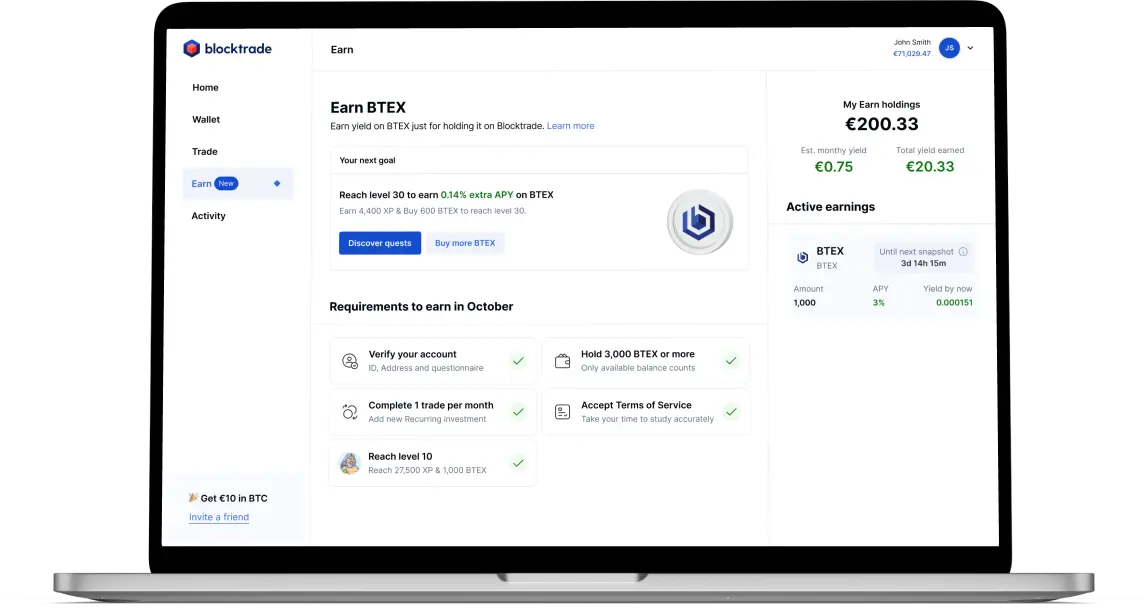 On the 5th day of each month, we check your BTEX balance.
You will get extra BTEX tokens as yields, instantly after the snapshot.
Make sure to meet the Earn BTEX requirements each month;
See the snapshot timing on our platform to maximize your BTEX balance;
The program starts with a 3% Annual Percentage Yield (APY) and can increase to 6% as you level up on our platform.
Achieve bigger long-term yields by keeping your BTEX investments on your account.
*This calculator is for information purposes only. The estimated yield of return depends on your initial investment and cryptocurrency price changes.
In

24

months you will receive*
3007.80

BTEX
1 Month
12 Months
24 Months
36 Months
Make sure your achieve all following requirements to start earning APY on your BTEX tokens.
Log in and verify your Blocktrade account.
Buy and hold a minimum of 3000 BTEX tokens in your wallet.
Reach level 10 (Zeus #1) with your account by earning XP points.
Congratulations! You are now ready to earn monthly yield on your BTEX tokens!