Overview Of The Main Differences And Similarities: Cardano vs. Solana
To start the "Cardano vs. Solana 2023" battle, of course, you must first examine their similarities and differences.
So, Cardano and Solana have a lot in common. Both projects give their communities access to many features in their Decentralized Finance (DeFi) ecosystems. And what is more important, both Cardano and Solana have solved the scalability problem, making them direct competitors to Ethereum. However, Ethereum has a head start because it launched earlier.
A comparison of Solana and Cardano will show the pros and cons of each project and help you decide which one is better to buy. Solana is popular because it has a fast transaction speed that neither Cardano nor Ethereum can beat. On the other hand, Cardano is different because of its unique validation system.
What Parameters Should You Consider When Comparing Two Coins?
In addition to technical indicators, there are a few qualitative aspects that experts advise considering when evaluating potential cryptocurrency investments or just comparing different tokens.
Technical Factors
The picture below shows a vivid example of a technical comparison.
Let's see what each of the factors in this picture means։
Transaction Per Second: In the context of blockchains, transactions per second (TPS) is the number of transactions that a network can handle each second.
Average Fee Per Transaction: A transaction fee is paid when a certain amount of cryptocurrency is transferred from one wallet to another.
Transaction Latency: The time that the transaction was submitted to the network.
Number Of Validators: A 'Validator' on a Blockchain is like a banker who verifies every incoming transaction. A transaction will only be completed on the blockchain when it has been verified by the validator.
Total Transactions To Date: This shows the number of transactions already completed.
Qualitative Factors
Well, as for the qualitative factors, we won't compare Cardano and Solana, but as we mentioned above, it would be very appropriate to consider them as well. Here they are։
Social media and the project website
According to experts, it's crucial to consider a first high-level overview of the project. Then, visit the cryptocurrency project's website and social media pages to learn more about the project, the team, and the community and get a feel of how socially engaged it is. 
The team's reputation and expertise can significantly influence a project's likelihood of success or failure. If the team is not publicly acknowledged, that raises suspicion (Bitcoin is the exception).
As an investor, you need to look at the project's white paper and road map to determine how much a coin or token will be worth in the long run. A good cryptocurrency project will have a solid white paper and a clear roadmap. A white paper is a document made by a crypto project and released to the public. It gives technical information about the project's idea to help you decide if it has any value. A road map helps set expectations for how a crypto project plans to grow and change if it is successful and widely used.
Find out if there are already investors in the project and, if so, who they are. It's a good sign if big names or well-known investment firms have already put money into the project. It means they've done their research and think the project will work in the long run.
For many crypto projects, the strength of the community behind the project can make or break its potential. The size and enthusiasm of the community play a significant role in how well the project starts and how well it does over time. However, it would be best to be careful when judging a coin or token using this factor. Sometimes, hype can be more considerable or essential than a project's real utility or value. You shouldn't invest in a coin or token based on hype alone. Instead, it would help if you took the time to learn about the above factors before putting too much stock in its community.
VERDICT: When studying an individual cryptocurrency's investment potential or comparing it with other cryptocurrencies, you must consider the abovementioned factors.
Cardano vs Solana – Differences
Now let's discuss the differences between Cardano and Solana in more detail:
Transaction fees differ between Cardano and Solana, even though both have far lower transaction fees than Ethereum. Their pricing is also very different. In contrast to Solana, which charges an absurdly cheap transaction cost of $0.00015 for every transaction, Cardano sets an average price of $0.25. These numbers show that trading on Cardano is 800 times more costly than trading on Solana.
Blockchain validation: Cardano and Solana's platforms work similarly but use different methods to validate the blockchain. Cardano uses the Proof of Stake (PoS) system to verify transactions. This system chooses members to make new blocks based on how much they have invested in the network. And on the other hand, Solana creates a hybrid system by combining a Proof-of-Stake (PoS) with a Proof-of-History (PoH) approach,
Solana vs Cardano speed: When it comes to speed, the Solana network is unrivaled. Although it typically averages approximately 2500 transactions per second (tps), they claim a potential peak capacity of 65,000 tps, which explains why this blockchain has recently become one of the most well-known. Cardano appears slow in contrast with Ethereum at about 250 tps. However, it's vital to remember that Ethereum only averages 30 tps.
Cardano vs Solana – Similarities
We saw the differences, and now the similarities։
The support for smart contracts and DApps shared by the Cardano and Solana blockchains is their primary point of commonality. Both networks have been created to promote smart contract technology and to operate as an environment for ambitious developers' initiatives.
Cardano and Solana have both outperformed Ethereum regarding transaction processing speed, which is precisely what they set out to do.
Compared to the Ethereum platform, both networks have low gas prices and the potential for significant scaling thanks to outstanding and special technological capabilities in Solana's case. For example, Cardano can handle 250 transactions per second (tps), whereas Solana can handle 2,700 tps on average.
Environmental Impact of Cardano and Solana
Cardano and Solana also have one other fundamental similarity that requires a separate topic.
Due to their strong commitment to minimizing environmental effects and solid emphasis on sustainable systems, Cardano and Solana are known as "green" cryptocurrencies. Furthermore, both employ the Proof of Stake (PoS) method, which consumes less energy than the Proof of Work (PoW) method used by other blockchains like Bitcoin. On their website, Cardano even states that its Ouroboros PoS protocol is far more energy-efficient and enables Cardano to "grow safely, sustainably, and ethically, with up to four million times the energy efficiency of bitcoin."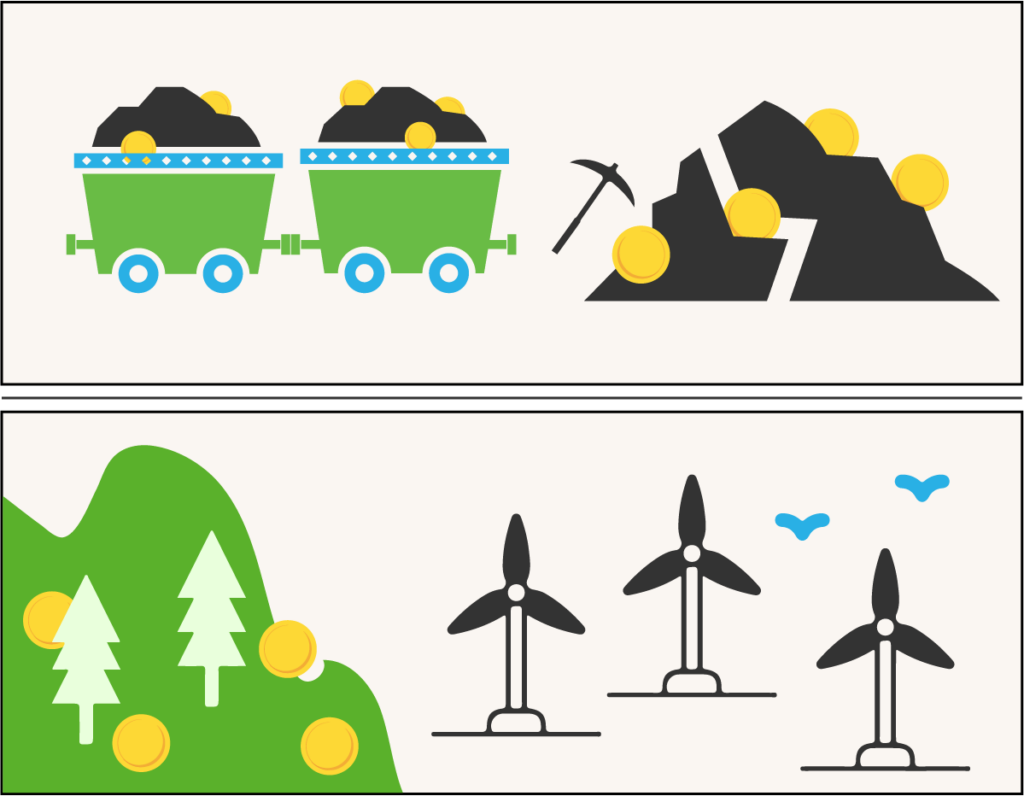 The typical Solana transaction requires 2,707 Joules, compared to proof-of-work blockchains like Ethereum (equivalent to 287,305 Solana transactions) and Bitcoin, which claim to be "so efficient that it has an energy effect a fraction of other blockchains and has the figures to back it up" (equal to 2,738,710 Solana transactions). The Solana website offers energy comparison tools and energy impact reports to showcase the network's efforts at sustainability and efficiency.
Cardano or Solana? Which is the better Investment?
This is a really tough question.
Both Cardano and Solana are blockchains that care about the environment, are designed for DApp and smart contract initiatives, and aim to provide speed and scalability to the general public.
SOL can be a good fit for your investment plan if you want a greener option and think speed is essential.
However, ADA could be a good fit for your portfolio if sustainability and peer-reviewed validation processes float your boat.
The better token is the one that is most valuable to you. Hence there is no clear-cut solution.
ADA vs. SOL: Historical Price Action Reviewed
A Cardano vs. Solana comparison can only be considered complete concerning the historical prices of the two.
Both currencies have fluctuated in value along with the rest of the cryptocurrency market. Both coins will frequently move in total agreement when favorable conditions for cryptocurrencies. During the most recent cryptocurrency craze, Cardano reached an all-time high of $2.9672 in 2021. However, Cardano's price declined as cryptocurrencies lost popularity. We have a separate big article on Cardano price predictions. We think the information posted there will be of benefit to you.
Solana, on the other hand, reached a price of over $259 within the same time period. But when cryptocurrency lost popularity, its value also plummeted precipitously. This was made worse by several network problems, including a 17-hour outage. As blockchain technology is meant to operate automatically, this hurts the value of Solana.
Cardano in Popular Culture
As we mentioned above, when analyzing the strength of a cryptocurrency, you also need to examine the buzz surrounding it. In the context of Cardano vs. Solana, let's see how pop culture has reacted to these two tokens.
Cardano has been in the headlines for all the right reasons over the years and has gained several fascinating collaborations and celebrity fans:
Samsung and Veritree joined with Cardano to address climate change via land restoration projects.
New Balance agreed with Cardano to validate the company's premium range of training sneakers.
Cardano collaborated closely with the Ethiopian government to develop a blockchain-based system for universal student credentials.
DISH Network, a TV & Wireless provider, incorporated the Cardano blockchain into its telecom company to offer digital identity services to Dish consumers.
Cardano collaborated with esports firm Rival to issue and distribute non-fungible tokens (NFTs) for exhibiting Rival's sports franchises.
Gene Simmons, leader of Kiss, invested in Cardano in 2021…
Solana in Popular Culture 
Since its introduction in 2020, Solana's network has acquired several prominent partnerships and endorsements despite being a relative newcomer to the cryptocurrency market:
Michael Jordan, a legend in the NBA, debuted his first NFT collection on the Solana-based platform HEIR.
In February 2022, Solana debuted Audius, a completely decentralized music platform.
In January 2022, Bank of America lauded Solana and predicted that blockchain technology would become the "Visa of the digital asset ecosystem."
Jason Derulo, an American musician, was unable to resist Solana's allure…
Where to Buy Solana and Cardano
You can buy Cardano and Solana on various popular exchanges such as Binance, Kraken, eToro, Crypto.com, etc.
On the other hand, if high security is a vital priority for you, then naturally, for both Cardano and Solana, hardware wallets are the safest. 
And finally, suppose you want to start investing in Cardano in small steps. In that case, you can consider a no-fee software wallet from a third party. Blocktrade wallet fits this role perfectly as a quality product.
Final Thoughts
Based on what investors are looking for, one might conclude which cryptocurrency is better to purchase, Solana or Cardano. 
Solana is a new project that has shown promise over the last year but has yet to undergo complete decentralization and is known to face minor technical difficulties occasionally. Nevertheless, investors interested in this project should choose it since it has had significant growth. At the same time, Cardano may be the logical choice for investors who can accept steady growth with an established scientific basis and a clear path. However, being known to miss deadlines often.
Solana and Cardano both want to reach the same place, but they have different ideas about how to get there. For example, Cardano wants scalable, fully decentralized networks run by the community. Solana gives its users fast transactions with a low fee and a semi-decentralized network, which hasn't been seen elsewhere in the crypto space.
Solana and Cardano are both ambitious projects with growing communities that give users a choice between stable and quick transactions. Investors need to make their choices based on facts and not their feelings.
P.S.
As for becoming an "Ethereum killer," we think you have convinced yourself that both Cardano and Solana technically have the potential to win such a title. Still, the technical advantage alone is not enough to knock out Ethereum. Therefore, this question will remain unanswered for quite some time.
FAQ