What Is AVAX?
Every cryptocurrency has a blockchain and a token. Accordingly, AVAX is the native token of the Avalanche blockchain. Therefore, we define the blockchain and token separately to allow you completely understand what's happening in this world.
Avalanche is an open-source platform launched in 2020 by Ava Labs, which allows everyone to create their blockchains effortlessly. The main purpose of this blockchain is to perform faster and more affordable than the old blockchain platforms.
In the competition to become the fastest blockchain platform, Avalanche can process 4500 transactions per second, which makes it a better platform for creating scaling decentralized applications (dApps). Furthermore, Avalanche is a highly secure blockchain supported by Proof-of-Stake (PoS) consensus mechanism.
Now, let's take a look at its token: AVAX. There are somethings you should know about each coin you want to buy. Apart from its price, you should know what you can do with this token. If you buy AVAX, you can do the following reasons:
Keeping it as an investment (like other cryptocurrencies)

Paying network fees 

Staking (AVAX holders can stake their coins to participate as validators to secure the Avalanche Network)  

Voting (AVAX holders can use their coins to vote on the system. Therefore, they have the power to change the direction of how this system works, such as coin creation rate, transaction fee structure, and other parameters.) 
What Is Solana?
In the race to be the fastest blockchain platform, Avalanche is not alone.  Solana is the major competitor. As a decentralized network launched in 2017, Solana is the big brother to Avalanche, which can process 65000 transactions per second, claiming to have a higher transaction speed than Avalanche. 
However, that doesn't still make it a better choice than Avalanche because there are other factors to consider. Furthermore, the speed of a platform becomes more important when it comes to developing dApps. Therefore, the developers care most about this factor. 
On the other hand, it can affect the token's price in various ways. However, it is not the only factor to consider while investing in a cryptocurrency, but it can help you have an overview of the price movement of coins.  
Speaking of the token, let's see what Solana has for us. The native token of the Solana blockchain is called SOL, which can be used for the following reasons: 
Investment

Transaction fees 

Staking

Voting on the blockchain 
As you can see, the usage of both cryptocurrencies is the same. So, we should talk about other factors that can affect investment. So, it's time to check the similarities and differences between AVAX and Solana. 
Similarities Between Solana and AVAX
The main similarity between these two cryptocurrencies is that they are both created to offer a faster transaction speed than Ethereum. However, their transaction speeds are not the same. Here are other similarities you can find between these cryptocurrencies: 
They both support smart contracts and NFTs.

AVAX and Solana use Proof-of-Stake as their major consensus mechanism.

Innovative technologies are used to enhance both performance and scalability.

They both have governance tokens that give power to their holders to vote on critical projects and regulations in the system.

The surprising similarity between Solana and AVAX is that they both had an increase in demand for their tokens in the last few years.

These similarities have made it more challenging to choose the better cryptocurrency to invest in, haven't they? So, let's see what their differences say.
Differences Between Solana and AVAX
As you can see, the Solana and AVAX work close to each other and they have many similarities. But, their differences can change everything: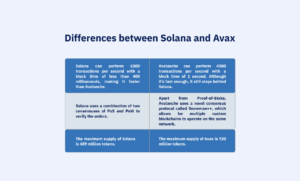 Which One Is a Better Investment? AVAX vs Solana? 
So far, we have reviewed the similarities and differences between Solana and Avalanche (AVAX). Apart from them, there are other factors you need to consider when deciding to buy a cryptocurrency. We will briefly mention them here. But you need to know that each factor is vast enough, so if you want to be able to analyze the world of cryptocurrency, you need to learn deeply about each of them. 
Technical Analysis:

 one important factor analysts use to forecast the profitability of a cryptocurrency is examining the historical price data. Accordingly, you should check out the price fluctuations of a coin in different periods, such as daily, weekly, or monthly charts.

Fundamental Analysis:

 while the history of a cryptocurrency is important, its current situation should be considered, too. You should note that the business model, the value of the stock, and even the resignation of management can affect the future price of a coin. So, all that is happening to the company should be noted.

Price Predictions:

 it's what analysts and experts in cryptocurrency can forecast based on the different factors, and the current situation of a cryptocurrency. Although no one guarantees these predictions are 100% correct and happen in the future, they can give an overview of the probability of a good investment in the future. Therefore, it is recommended to recognize crypto experts and follow their analyses.
Solana vs Avalanche: Price History 
Although it might be difficult for beginners to analyze the future of a cryptocurrency based on these factors, knowing about the history of a coin can be helpful. Therefore, we decided to give a brief history of the price movement of each crypto.
Solana Price History
Solana launched its official cryptocurrency, SOL, in April 2020 for $0.79 per coin. Despite its low price, it was still a risky investment for most people because as a new coin, its future value was uncertain. However, time passed and showed that SOL was a profitable investment. Those who bought it at the beginning were fortunate because, within a year, the price mounted to $260. This unexpected profit led more people to purchase the coin in hopes of further increases.
Unfortunately, the price never exceeded this amount and instead dropped to $12 in November 2022. Furthermore, Sol's price was almost stable in 2023, between $13 and $20 per coin. The price of Sol was almost $19 in July 2023.
Avalanche Price History 
Like Solana, Avalanche's native token AVAX was launched in 2020. Its initial price was $3.68. In the first year, it didn't have any fluctuations. But in February 2021, it went as high as $54, which was the highest price after its release. However, very soon, its price dropped to $26. But it was still a profitable investment for people who had bought this crypto in the first place. AVAX recorded its highest price of $134 in November 2021.
As you can see, AVAX's price increased twice in one year, making it an excellent investment for people who had bought it at the beginning of the year. Therefore, AVAX was a good investment for people in 2020 and 2021 because apart from its fluctuations, it always went up more than the previous time. But, as nothing is guaranteed in the volatile world of cryptocurrencies, its price decreased to $18 in 2022, and with a few ups and downs, it continues almost stable between $14 to $19 until the end of the year. AVAX price was around $15 in July 2023.
AVAX vs Solana: Price Predictions 
We checked out the price history of each cryptocurrency, it's time to take a look at their possible future based on experts' predictions. 
SOL Price Predictions 
Based on what 

CryptoNews

 expects, the SOL price might rise as high as $74 per coin by 2025 and $170.96 per coin up until 2030.

CoinCodex

 predicts almost the same, the experts on this website think that the SOL's price might possibly be between $72 to $168 in 2025, and by 2030 it could possibly reach $174.

Coinpedia

 also has a prediction that is close to others. Their analysts expect the price of SOL to reach $70 by 2025 and its possible average price to be around $217.
You can buy SOL on BlockTrade. 
AVAX Price Predictions 
According to 

CryptoNews

, the AVAX's price could reach $41 per coin by 2025, and its maximum price could reach $170 by 2030.

BitcoinWisdom

website predicts the average price of $49 for AVAX by 2025, and its analysts expect Avax price to rise as high as $130 by 2030.

CoinCodex's prediction

is nearly the same as others. They think the AVAX price might be around $47 by 2025, and its maximum price could possibly be around $122 by 2030.
You can buy AVAX on Blocktrade.
What else you need to know?
We reviewed the past and forecasted the future of each cryptocurrency, and tried to give ideas about which one to choose. In addition, we have some recommendations to help you have a better investment:
As a beginner, it is recommended to invest a minimum amount of your money in crypto to get to know this world. Therefore, it is better to invest as much money as you can afford to lose.

Whenever you buy crypto, choose an exit point, even with minimum profit. This way you won't lose much money and will become more expert in this world. So, don't expect to have a high profit on your first investment.

Whenever you want to buy a cryptocurrency, check the price of the day, and its fluctuations in the past. Read the news and comments of experts about crypto to find out if it is in a stable situation.

Always use a secure wallet. It might be better to have a hard wallet if you want to keep your coins as a long-term investment.
Bottom Line 
Investing in cryptocurrency is risky work. Despite being so profitable, it might be a loss too. Therefore, you should do your own research whenever you want to buy crypto. Furthermore, it is better to know what can affect the future price of a coin so you can consider those factors and find out when is the best time to sell your coins. However, in the end, it's all up to you to choose a crypto, based on your preferences. Remember that due to the volatility of the cryptocurrency world, no one can guarantee a profitable future for any coin. Therefore, invest in a coin with an open mind.
FAQs
Which one is more secure? Avalanche or Solana?
Both blockchains use Proof-of-Stake consensus mechanism to protect their platform. Therefore, they are equally secure. However, when it comes to speed, Solana is faster than Avalanche. On the other hand, when it comes to security, Avalanche is a safer platform among most of the smart contract blockchains.
Is Investing in AVAX Risky?
As with any cryptocurrency, investing in AVAX can be risky. Since no one can predict the future of a cryptocurrency and guarantee that it will be profitable in the future, it can be risky to hold crypto as an investment. However, if you keep an eye on the market and crypto news, you will find out the best time to sell your coins so that you don't lose your money.