Overview of the Main Differences and Similarities: Cardano vs. Polkadot
 To start the "Cardano vs. Polkadot" battle, you should look at a few fundamental facts to comprehend the distinctions and similarities between Polkadot and Cardano. The table below shows the overview of both networks. 
Besides, you can get in-depth information about Cardano from our big What is Cardano article.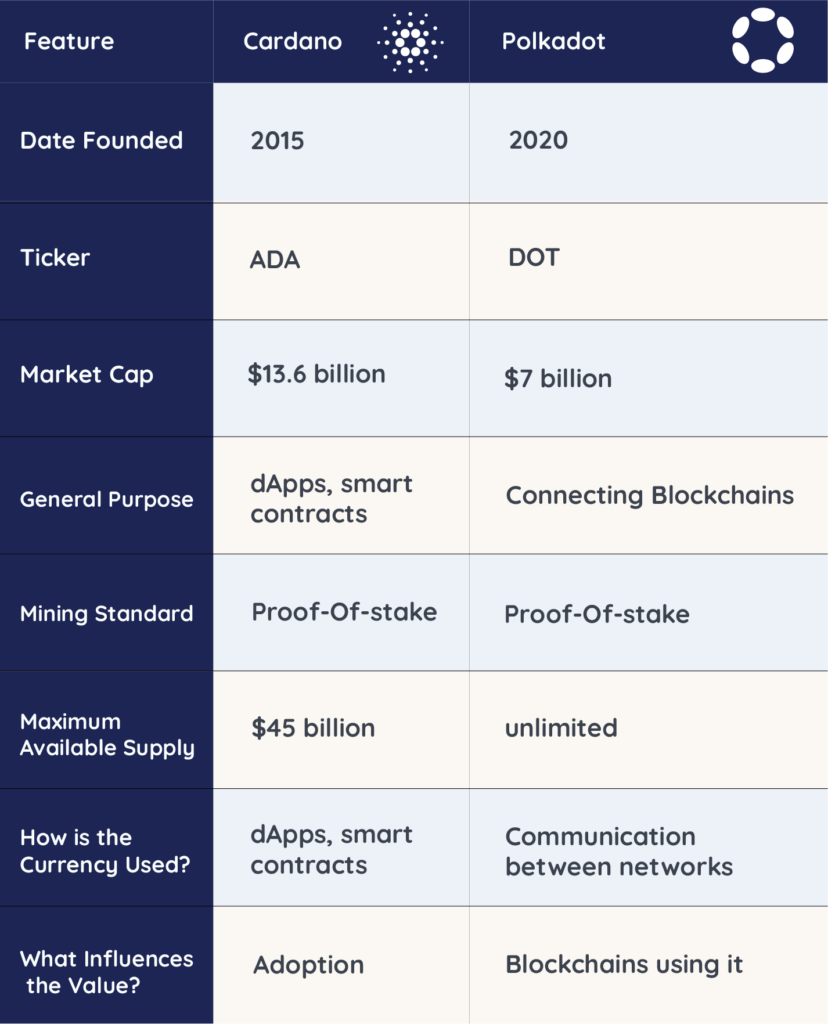 What Parameters should You consider when comparing two Coins?
In addition to technical and numerical indicators, there are a few qualitative aspects that experts advise considering when evaluating potential cryptocurrency investments or comparing different tokens. 
Let's start with the technical ones.
Technical Factors
The picture below shows a vivid example of such a comparison.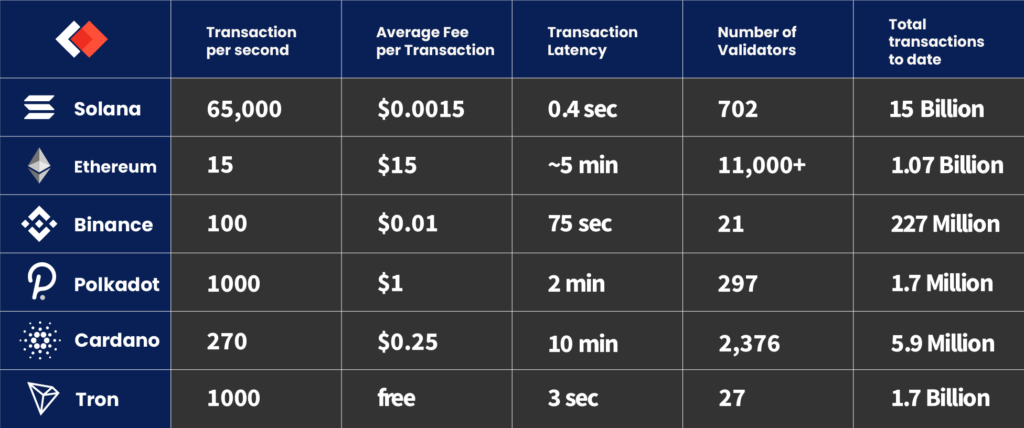 But what does this whole terminology mean?
Transaction Per Second: In blockchains, transactions per second (TPS) is the number of transactions a network can handle each second.
Average Fee Per Transaction: A transaction fee is paid when a certain amount of cryptocurrency is transferred from one wallet to another.
Transaction Latency: The time that the transaction was submitted to the network.
Number Of Validators: A 'Validator' on a Blockchain is like a banker who verifies every incoming transaction. A transaction will only be completed on the blockchain when it has been verified by the validator.
Total Transactions To Date: This shows the number of transactions already completed.
Qualitative Factors
Well, as for the qualitative factors, we won't compare Cardano and Solana, but as we mentioned above, it would be very appropriate to consider them as well.
Here they are։
Social media and the project website
According to experts, it's crucial to consider a first high-level overview of the project. Then, visit the cryptocurrency project's website and social media pages to learn more about the project, the team, and the community and get a feel of how socially engaged it is. 
The team's reputation and expertise can significantly influence a project's likelihood of success or failure. If the team is not publicly acknowledged, that raises suspicion (Bitcoin is the exception).
As an investor, you need to look at the project's white paper and road map to determine how much a coin or token will be worth in the long run. A good cryptocurrency project will have a solid white paper and a clear roadmap. A white paper is a document made by a crypto project and released to the public. It gives technical information about the project's idea to help you decide if it has any value. A road map helps set expectations for how a crypto project plans to grow and change if it is successful and widely used.
Find out if there are already investors in the project and, if so, who they are. It's a good sign if big names or well-known investment firms have already put money into the project. It means they've done their research and think the project will work in the long run.
For many crypto projects, the strength of the community behind the project can make or break its potential. The size and enthusiasm of the community play a significant role in how well the project starts and how well it does over time. However, it would be best to be careful when judging a coin or token using this factor. Sometimes, hype can be more considerable or essential than a project's real utility or value. You shouldn't invest in a coin or token based on hype alone. Instead, it would help if you took the time to learn about the above factors before putting too much stock in its community.
VERDICT: When studying an individual cryptocurrency's investment potential or comparing it with other cryptocurrencies, you must consider the abovementioned factors.
Cardano vs Polkadot – Differences
Now let's go over the main differences between Cardano and Polkadot:
Infrastructure: While Polkadot enables several blockchains to connect in a single mainnet, Cardano has a two-layer system.
Strengths: Infinite scalability and sustainability are characteristics of Polkadot. Still, Cardano has the advantages of fast transaction speed and low (or free) transaction costs.
Vision: Cardano wants to create an improved network that is necessary for the creation of dapps. In contrast, Polkadot intends to improve the functionality and compatibility of blockchains.
In conclusion, Polkadot and Cardano are pursuing various long-term objectives.
Cardano vs Polkadot – Similarities
We saw the differences, and now the similarities։
Mining Process: To produce new coins, Polkadot and Cardano employ the proof-of-stake mechanism. Unlike Bitcoin or Litecoin, they are not "mined." As a result, there is a significantly lower barrier to profiting from your assets because you can join several "pools."
Lower Energy: Compared to some of the earlier ecosystems, like Bitcoin, both utilize less energy. Sustainability and energy efficiency will take a central role as crypto develops further.
Staking: Both networks support staking, which enables you to profit from your holdings as the network uses your coins to support transaction validation. Again, this is cheaper and simpler than putting up a Bitcoin mining setup.
Environmental Impact of Cardano and Polkadot
A study by Traders of Crypto found that Cardano, Polkadot, and Algorand are in the TOP-10 of the most "green" cryptocurrencies. The study looked at how much electricity cryptocurrencies use each year, how much energy they use per transaction, and how much CO2 they release. 
Cardano (ADA) accounted for 48,851 KWh of energy usage annually, while Polkadot (DOT) consumed 512,671 kWh of energy.
As you see, Cardano is the most eco-friendly coin based on how much electricity it uses. So, in terms of ecology, the winner of the "Cardano vs. Polkadot" battle is Cardano, which uses 48,851 kilowatt-hours per year, which puts it at the top of the list. 
With their proof-of-work protocols, Bitcoin and Ethereum use enough electricity to power a small country. On the other hand, Cardano uses a proof-of-stake system, making mining less competitive and consuming less energy.
Cardano or Polkadot? Which is the better Investment?
"Better" is often subjective, making it hard to prove a claim. Which one is better will depend on what developers and users want and how tribal people in the community are.
Polkadot vs. Cardano: Both Are Good
As third-generation blockchain solutions, they both work well. Fans of Cardano think that its two-layer infrastructure is better. In contrast, fans of Polkadot claim that its ecosystem is better for developers.
Some people say that Polkadot's technical features are better than Cardano's. For example, both use a version of the Proof-of-Stake (PoS) consensus mechanism, but Polkadot has a network of multiple blockchains connected to the same network. Because of this, its infrastructure is more adaptable.
Polkadot has more projects now, but Cardano is better for the environment. Another claim is that Cardano's operations are more stable and long-lasting regarding how they work and the infrastructure they use.
VERDICT: In short, it isn't easy to decide which of these two is better. As we already said, there are many subjective factors. That said, Cardano vs. Polkadot competition comes to a draw.
ADA vs. DOT: Historical Price Action reviewed
A Cardano vs. Polkadot comparison can only be considered complete concerning the historical prices of the two.
Before falling down to earth in 2021, Cardano's price climbed slightly over $2.95. However, since the crypto bubble burst simultaneously, it is probably not only about Cardano. The sluggish growth has kept the price low. Therefore, the 2023 year or even 2024 will likely be challenging for numerous cryptocurrencies, not just Cardano. We have a separate big article on Cardano price predictions. We think the information posted there will be of benefit to you.
At one point, Polkadot's price was just under $54, but it collapsed. As of the beginning of 2023, Polkadot is selling at slightly over $6. It is unclear if it will rebound, but it is heartening to know that crypto, not only Polkadot, has been creating a sizable basing pattern for some time.
Remember that the crypto markets have already seen this type of behavior and that things will probably soon start to improve. However, it is still unclear if any of these markets will follow. Therefore, it would be beneficial if you always viewed cryptocurrencies as very speculative assets.
Cardano in Popular Culture
As we mentioned above, when analyzing the strength of a cryptocurrency, you also need to examine the buzz surrounding it. In the context of Cardano vs. Polkadot, let's see how pop culture has reacted to these two tokens.
Cardano has been in the headlines for all the right reasons over the years and has gained several fascinating collaborations and celebrity fans:
Samsung and Veritree joined with Cardano to address climate change via land restoration projects.
New Balance agreed with Cardano to validate the company's premium range of training sneakers.
Cardano collaborated closely with the Ethiopian government to develop a blockchain-based system for universal student credentials.
DISH Network, a TV & Wireless provider, incorporated the Cardano blockchain into its telecom company to offer digital identity services to Dish consumers.
Cardano collaborated with esports firm Rival to issue and distribute non-fungible tokens (NFTs) for exhibiting Rival's sports franchises.
Gene Simmons, leader of Kiss, invested in Cardano in 2021…
Polkadot in Popular Culture 
Unfortunately, we could not find significant pop culture responses to the Polkadot token. This means that in this round of the "Cardano vs. Polkadot" battle, Cardano is the winner again.
Where to Buy Polkadot (DOT) and Cardano (ADA)
You can buy Cardano and Polkadot on various popular exchanges such as Binance, Kraken, eToro, Crypto.com, etc.
On the other hand, if high security is a vital priority for you, then naturally, for both Cardano and Polkadot, hardware wallets are the safest. We covered this topic in a big article titled "Best Cardano Wallets".
And finally, suppose you want to start investing in Cardano in small steps. In that case, you can consider a no-fee software wallet from a third party. Blocktrade Wallet fits this role perfectly as a quality product.
FAQ
Final Thoughts
Cardano and Polkadot both show potential for blockchain integration thanks to their low transaction fees and consensus algorithms. Polkadot is ahead of Cardano in terms of development, with Cardano trying to "catch up" by enabling users to pay transaction fees in the currency they send.
Adoption rates for Cardano and Polkadot will differ depending on how rapidly each project overcomes unexpected obstacles, even if both are still relatively young projects. Despite being quicker than Ethereum, neither network has achieved widespread acceptance yet. Furthermore, they will need to increase speeds to 5,000 TPS to compete with established payment systems like Visa or Mastercard.
So, only time will show how each of these is capable of solving the problems at hand.