What is XRP Wallet? 
XRP wallet is a device or program that allows you to transfer and keep XRP tokens. And of course, the best XRP wallet is the one that makes these operations as easy, fast, and secure as possible.
Like other cryptocurrency wallets, the XRP wallet has two sets of keys. There are both private and public keys. So, by private key, you make a public key, which is the wallet's address. Cryptocurrency is sent to this address. 
NOTE: Your crypto tokens are managed and represented by private keys. You need this private key to prove ownership of the tokens. Loss or theft of the private key results in a loss of these tokens.   
This private key can be stored with a wallet provider (custodial wallet) or directly with the crypto wallet (non-custodial wallet).   
Custodial wallets are crypto wallets where the provider manages the private key for the user.  
Non-custodial wallets are crypto wallets where the users (and only them) have access to and manage their private keys. 
XRP Wallets' Types 
Here are the three types of XRP wallets: 
Hardware Wallets 
This type of wallet is crypto-storage on a special physical device, looking similar to a USB stick. Private keys are kept only on the device. Also referred to as "cold storage", this wallet is not connected to the internet. As XRP is one of the most significant crypto assets by market capitalization, several hardware wallets are compatible with the XRP coin.  
PROs 
✅ The highest degree of security of any wallet type. With private keys offline, hacks and exploits through malware are eliminated.   
✅ Hardware wallets can be secured additionally by storing them with a notary or safety deposit box at a bank. 
CONs 
❌ High cost of hardware wallets, between $50-$150 vs. usually free other wallet types.   
❌ Low user-friendliness, complexity, and challenging to use with the long and burdensome setup procedure.   
Desktop and Mobile Wallets (Software) 
These types of wallets are installed locally as software on a Desktop device (Windows, Mac, Linux) and run as programs that need an internet connection to link to the blockchain. Desktop wallets store cryptocurrencies and details on the local device and are therefore of non-custodial type.  
Mobile wallets are app-based crypto wallets installed and run on smartphones for iOS and Android. As the most widely used wallet type, they are available as both custodial and non-custodial wallets.  
PROs 
✅ User-friendliness in most cases, as desktop wallets offer great user experience and intuitive interfaces.   
✅ Higher level of security with crypto assets being stored on the local device instead of online, yet the risk of hacks and exploits. Anti-virus software and a firewall are necessary! 
✅ Availability – use anywhere, anytime via a web connection. 
 Cons 
❌ Risk of hacks and exploits through locally installed malware or targeted hacker attacks.   
       Security risk with theft or defect of smartphone that could lead to loss of funds.  
       Vast selection on the market with many mobile wallets lacking essential security features, careful selection is essential.   
Paper Wallets 
Paper wallets essentially hold crypto-asset details on a piece of paper, as the name implies. Using this kind of wallet involves an asset holder making a new wallet via specific websites and printing out the essential details on a piece of paper. The holder would then store that piece of paper in a safe place. 
PROs 
✅ A very high degree of security if the website where it is to be used is trusted. 
Cons 
❌ Low physical durability: if exposed, it can lead to loss of funds. 
List Of The Best XRP Wallets 
After introducing the types, we can move on to the wallets themselves.
Here is the list of the best XRP wallets: 
1. Ledger 
2. Crypto.com 
3. Blocktrade 
4. Binance 
5. Atomic Wallet 
6. Coinbase 
7. Trezor 
8. Metamask 
Comparison Table Of The Best XRP (Ripple) Wallets  
Below you can see a comparison of the main features and fees of the eight best XRP wallets, with our respective ratings.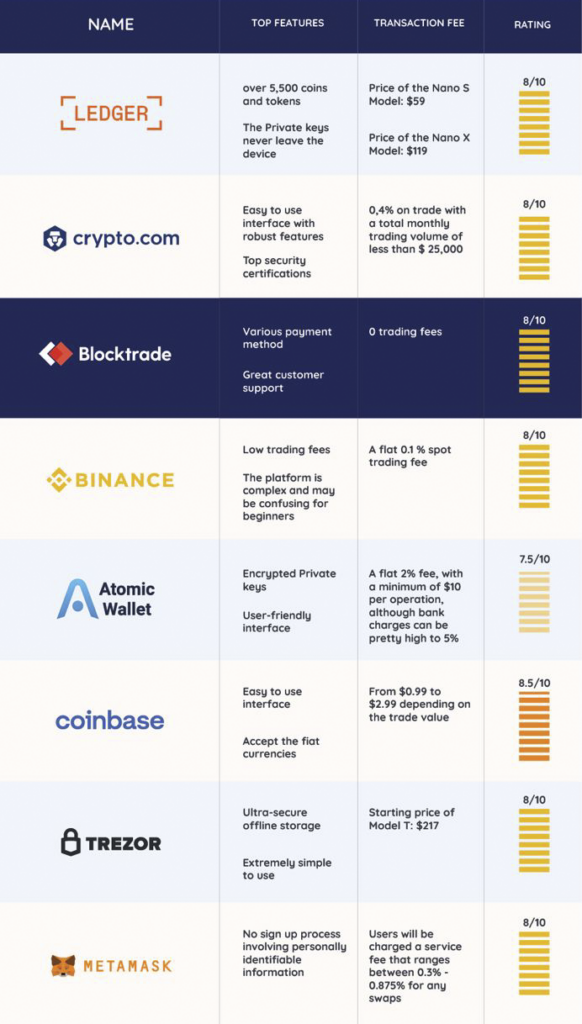 Ledger։ Hardware Wallet 

Features: 
USB compatible device 
The private keys never leave the device 
Over 5,500 coins and tokens 
Up to 100 applications on your Ledger 
2-factor authentication 
Price of Nano S model: $59 
| | |
| --- | --- |
| Pros  | Cons  |
| Bluetooth connectivity  | High price  |
| 8-hour battery life  | No touchscreen support  |
| Certified secure chip (CC EAL5+)  |   |
| USB-C cable  |   |
Verdict: If you prefer a hardware type of wallet, the devices offered by Ledger are perhaps one of the best. Just remember that you have to pay for the device itself. For example, the Nano S model costs $59, and the Nano X costs $119. 
 
Crypto.com: Software Wallet 
Features: 
Crypto.com offers a prepaid Visa card that functions like a rewards debit card and can more easily allow you to spend your crypto holdings. 
You can receive up to 14.5% per year on your deposits of more than 30 cryptocurrencies. 
Loan XRP up to 50% of the wallet balance for all cryptos. 
| | |
| --- | --- |
| Pros  | Cons  |
| High Speed: 50-microsecond core latency  | Higher trading fees for low-volume traders  |
| Daily rewards on the user's balance, no lock-up period  | Cashback rewards and other perks are paid out in Crypto.com's native cryptocurrency  (CRO), meaning you may experience fluctuations in your rewards  |
| Up to $2,000 for every invited friend  |   |
| Easy-to-use interface with robust features  |   |
| Top security certifications  |   |
Verdict: If you're new to cryptocurrency, you may be overwhelmed by Crypto.com's trading interface. Instead, you might seek out a more beginner-friendly platform like Blocktrade. 
Blocktrade։ Software Wallet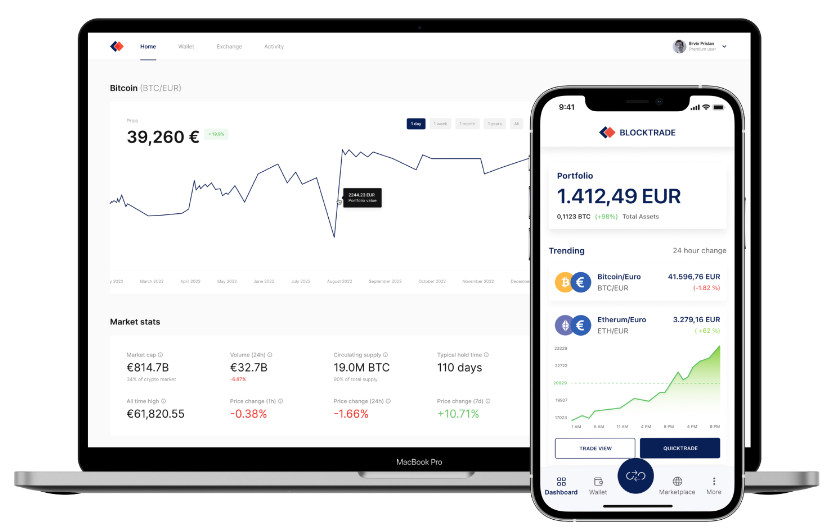 Features: 
Very easy-to-understand interface, especially for beginners 
You can buy minimal required XRPs with the smallest possible cost ($10) 
Available in 120 countries 
Zero fees 
| | |
| --- | --- |
| Pros  | Cons  |
| No Fees  |  A small list of available cryptocurrencies |
| Very simple interface  |   |
Trading on Blocktrade is beginner-friendly and easy to use for anyone with basic computer skills. And there are NO FEES, which is great news! Blocktrade is available on the web or through Android and iOS mobile devices. If you've ever traded stocks through an online brokerage, you'll find a somewhat similar experience.  
Binance: Software Wallet 

Features: 
Binance has more than 365 cryptocurrencies available for trade on its exchange, but only 65+ are available in the U.S. 
Three basic options for 24/7 customer support: submitting a ticket, asking basic questions via chat, and reaching out via Twitter. 
Binance charges a flat 0.1% spot trading fee.  
| | |
| --- | --- |
| Pros  | Cons  |
| Low trading fees  | The platform is complex and may be confusing for beginners  |
| Wide selection of trading options and order types  | No fiat deposits or withdrawals.  |
| 24/7 support  | Binance has run into regulatory trouble in several countries  |
| More than 100 different cryptocurrencies are available to trade  |   |
Verdict: Binance offers a relatively secure, versatile way to invest in and trade XRP, but it could be overwhelming for beginners. And it doesn't have its own dedicated crypto wallet, but it recommends Trust Wallet. 
 
Atomic Wallet: Software Wallet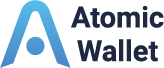 Features: 
Atomic Wallet is a decentralized wallet that accommodates multiple cryptocurrencies, including XRP. 
Atomic Wallet users have total control over their private keys, which are usually encrypted and stored on their devices, giving them full custody of their funds. 
You can buy XRP with bank cards. 
A 2% flat fee with a minimum of $10 per operation. 
| | |
| --- | --- |
| Pros  | Cons  |
| Encrypted private keys  | Not hardware-compatible  |
| User-friendly interface  | A limited number of crypto assets are available for purchase  |
| 24/7 support  |   |
 
Verdict: With an easy-to-use interface, this wallet is suitable for new and existing XRP investors who desire speed, security, privacy, and anonymity while managing their portfolios and transacting. While the wallet does not generate a new address for every transaction and is not coinjoin-enabled, transactions are anonymous. Therefore, this wallet is a good choice if you value anonymity.
Coinbase: Software Wallet 

Features: 
One of the largest cryptocurrency exchanges in the world. 
The users can schedule their XRP trading on a daily, weekly, or monthly bases. 
It allows you to buy and sell any digital currency and keep track of them in one place. 
Coinbase stores your funds in a vault for the highest security purposes. 
Fees: 
| | |
| --- | --- |
| Trade Size  | Coinbase Fee   |
| $10 or less  | $0.99  |
| $10 to $25   | $1.49   |
| $25 to $50  | $1.99   |
| $50 to $200   | $2.99   |
| | |
| --- | --- |
| Pros  | Cons  |
| Easy-to-use interface  | Potentially high transaction fees  |
| Accepts the fiat currencies  |   |
| Top security protection  |   |
Verdict: Coinbase is a well-known cryptocurrency exchange that makes buying, selling, and exchanging XRP coins easy. Though, the trading fees could be lower. The platform uses industry-leading security practices to keep customer deposits and assets safe.  
Trezor: Hardware Wallet 

Features: 
Trezor supports various high cryptography standards that help increase the security of transactions. 
Trezor puts a tremendous focus on the security of their wallet. 
Trezor's Model T has the best touchscreen display of all hardware wallets in terms of readability. 
Starting price of Model T: $217 
| | |
| --- | --- |
| Pros  | Cons  |
| Ultra-secure offline storage  | Very expensive tool  |
| Extremely simple to use.  | Customer support could be better  |
| Color touchscreen.  |   |
Verdict: The secure hardware wallets designed by Trezor are user-friendly and safe for storing XRP.  They have great technical features and usability. But the high price of the devices can become an obstacle for beginners who still want to try their hand at the crypto market but are not ready to spend a lot of money on the wallet itself. 
Metamask: Non-Custodial Software Wallet 

Features: 
MetaMask users have to download the software and create a new wallet without giving any personally identifiable information, including their name, address, or Social Security number. 
MetaMask's approach to security is through user anonymity rather than traditional security measures. 
Users will be responsible for paying any gas fees to the blockchain for their transactions, depending on how fast the exchange needs to process. Users will also be charged a service fee that ranges from 0.3% – 0.875% for any swaps. 
| | |
| --- | --- |
| Pros  | Cons  |
| No signup process involving personally identifiable information  | No password reset option  |
| Easy download and setup across devices  |   |
Verdict: While the MetaMask wallet is excellent for those comfortable around cryptocurrency, it isn't the best option for those new in the space. Because the wallet is susceptible to malware and social engineering attacks, those who don't understand what red flags to watch for are at a high risk of losing their assets. Moreover, because there is no way to reset a password without the 12-word secret seed phrase, users can quickly lose access to their crypto assets forever. Thus, new users should research how to use cryptocurrency wallets before jumping into MetaMask.
FAQ 
Final Thoughts 
In conclusion, it can be said that all the reviewed wallets are very high-quality products for starting XRP trading. Those are the best XRP wallets on the market! And when it comes to choosing one of them, a lot depends on the specific user's preferences and financial capabilities. 
So, If you are looking for a hardware wallet with ultra-high security, Trezor is an ideal option, albeit quite expensive. 
If total anonymity is essential for you, Atomic Wallet is a good choice. 
Binance has well-maintained Customer Support. So, If this is a critical point for you, then choose this wallet, but remember that Binance is a pretty complex platform. 
Well, the most compromise option for beginners might be Blocktrade. It has a super easy-to-use interface and high-security standards for a software type of wallet, but at the same time, Blocktrade will save you money because it doesn't require any payments or extra fees.