So far, you may be familiar with different crypto wallets. Two helpful tools for the job are hardware wallets like the Ledger Nano X and newer Ledger Nano S Plus. These let you store private keys offline for added protection. Away from internet connections, their encrypted security chips and PIN codes help shield wallet balances.
As two of the top hardware wallet brands, the Nano X and Nano S Plus make crypto security approachable whether you're new to investing or a seasoned pro. But which model is a better fit? This guide provides a thorough breakdown of their key differences to help you choose. We'll compare features, strengths, drawbacks and real use between the two. By the end, you'll have a solid grasp of each wallet's pros to match your preferences and security priorities. Read on for the details!
The Ledger Brand: Trusted Security for Crypto Assets
When comparing the Ledger Nano X vs S Plus, it helps to understand the respected brand behind these hardware wallets. Ledger is a French technology startup that was founded in 2014 to develop secure solutions for blockchain applications.
Within just a few years, Ledger gained renown as an industry leader in manufacturing cryptocurrency hardware wallets like the Nano X and Nano S Plus. The company is now widely considered one of the most trusted brands when it comes to keeping crypto assets safe through cold storage.
Beyond its flagship lineup of hardware wallets, Ledger also develops key software such as the Ledger Live manager app. Ledger Vault is another solution targeted at enterprise-level clients who need institutional-grade custody for digital assets. With its focus on security and usability, Ledger continues to shape the evolution of safeguarding crypto.
The Flagship Model: Ledger Nano X Overview
As the newest flagship hardware wallet from Ledger, the Nano X represents the top-tier offering when it comes to security for your crypto assets. With Bluetooth connectivity, mobile app integration, and a robust capacity for apps, the Ledger Nano X delivers maximum functionality to safeguard your digital wealth.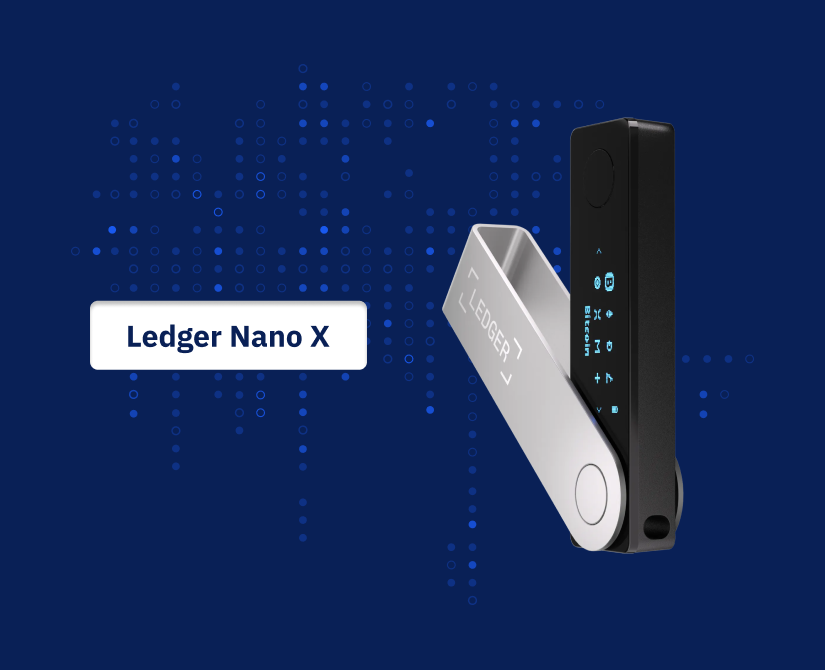 At a price point of $149, the Nano X commands a higher cost than previous Ledger models. However, the justifications for the price become clear when you examine the features. Built-in Bluetooth allows the Nano X to connect wirelessly with iOS and Android devices to manage crypto. This delivers effortless mobility without compromising security.
The Nano X also shines with its ability to hold up to 100 apps simultaneously. This substantial capacity means you can store a diverse crypto portfolio spanning thousands of tokens. Whether you're an investor with multiple cryptocurrencies or an avid NFT collector, the Ledger Nano X has you covered.
For those seeking the ultimate hardware wallet to maximize functionality, crypto app support, and overall user experience, the Ledger Nano X is the clear choice. The combination of robust security, intuitive interface via Bluetooth on mobile, and the capacity to manage a plethora of digital assets makes the Nano X the premier Ledger offering.
The Budget-Friendly Pick: Ledger Nano S Plus Overview
As the more affordable alternative to the high-end Ledger Nano X, the Ledger Nano S Plus offers a streamlined hardware wallet solution focused on essential security for your cryptocurrency. With a pared-down feature set compared to the Nano X, the Nano S Plus provides robust crypto protection without breaking the bank.
At just $79, the Nano S Plus comes in at half the cost of the Nano X. You still get the core security of the Secure Element chip and PIN code authorization to confirm transactions. The main difference is that the Nano S Plus lacks Bluetooth connectivity and mobile pairing. However, it matches the Nano X with the ability to hold 100 apps simultaneously.
For crypto investors who want time-tested hardware wallet security from Ledger without paying extra for advanced features, the Nano S Plus hits the sweet spot. It's the quintessential choice for those prioritizing affordability and essential functionality to keep their crypto portfolio offline and hacking-resistant.
If you're ready to transfer Bitcoin to your new Ledger wallet but haven't purchased any yet, our 'Buy Bitcoin with PayPal' page can help you acquire Bitcoin easily using one of the most popular online payment systems
A Deeper Look: Physical Feature Comparison of Ledger Nano Models
When examining the Ledger Nano X versus the Ledger Nano S Plus, one area where they differ is in the physical form factor and traits. Let's explore the distinctions: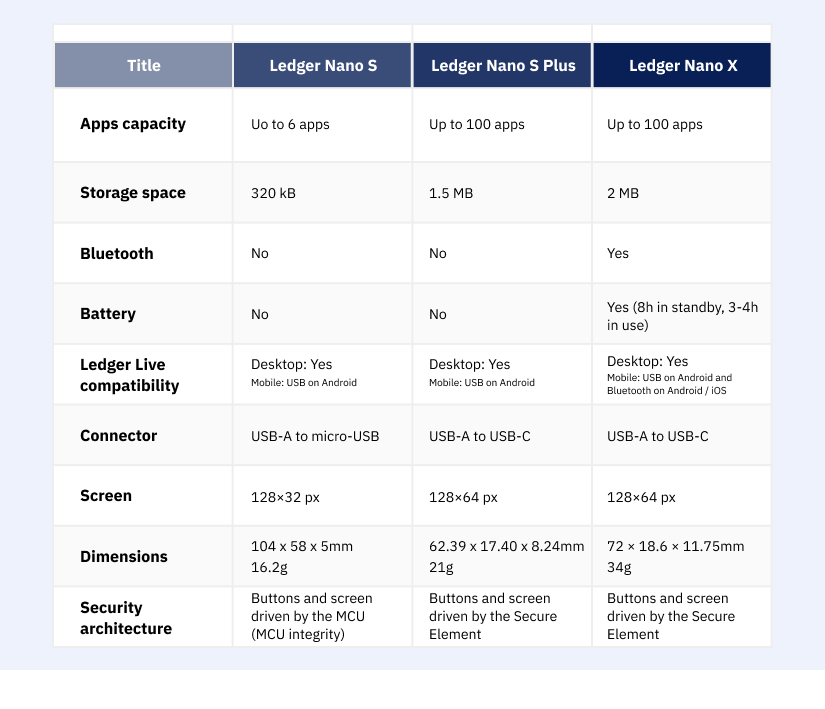 In terms of size and weight:
The Nano X is larger and heavier than the Nano S Plus.
The Nano X clocks in at 72mm x 18.6mm x 11.75mm and weighs 34 grams.
Comparatively, the Nano S Plus has more compact dimensions of 62.39mm x 17.4mm x 8.24mm and is lighter at just 21 grams.
For those focused on extreme portability, the Nano S Plus has the advantage.
The screens are another differentiator:
Both models have 128×64 pixel OLED displays,
but the Nano X screen is slightly larger and utilizes two large side buttons for navigation.
The Nano S Plus has a more classic design with smaller buttons positioned at the top.
When it comes to battery life:
The Nano X clearly wins. It packs a 100 mAh battery that delivers up to 8 hours of use before needing a recharge.
The Nano S Plus lacks an integrated battery entirely, requiring connection to an external power source.
In summary, the Ledger Nano X trades more size and weight for a better screen and battery life. But both deliver the core functions of a hardware wallet effectively.
Identical Security in Both: Comparing Protection of Ledger Devices
While the Ledger Nano X and Nano S Plus differ physically, their security architectures and cryptographic safeguards are identical. This means you can count on robust protection for your private keys and crypto assets with either model.
The core component enabling their security is the certified Secure Element chip. Both Ledger devices utilize EAL5+ certified secure element chips to generate and store private key data completely isolated from external threats.
PIN codes provide another layer of protection, with both models requiring authorization for transactions. Recovery phrases also back up your private keys on both wallets. And industry-standard cryptography keeps data secure in transit and at rest.
When it comes to fundamental cryptography and security practices safeguarding your keys, coins, and tokens, the Ledger Nano X and Nano S Plus are equivalent. No matter which model you choose, you can have confidence in the underlying security foundations.
Massive Selection: Comparing Supported Cryptos
One area where the Ledger Nano X and Nano S Plus are identical is in their vast support for cryptocurrencies. Both hardware wallets can house private keys and enable transactions for over 5,000 different crypto assets.
This massive scope of support encompasses all the major coins including Bitcoin, Ethereum, Ripple, Litecoin, and Stellar. But it also extends to smaller cap altcoins and tokens. Whether your portfolio includes stalwart blue chip cryptos or speculative assets, these Ledger devices have you covered.
The included Ledger Live software allows you to manage over 500 popular cryptocurrencies with a user-friendly interface. For assets beyond that list, you can integrate your Ledger hardware wallet with many other third-party wallet apps and services.
The bottom line is that no matter how diverse your crypto holdings, the Ledger Nano X and Nano S Plus enable you to keep the vast majority of coins and tokens securely offline. For broad cryptocurrency support in a hardware wallet, you can't go wrong with either Ledger model.
Both the Ledger Nano X and Nano S Plus support an impressive range of cryptocurrencies, but there's more to consider when choosing your ideal wallet.
Seamless Software Integration: Comparing Wallet Compatibility
When it comes to software wallet integration, the Ledger Nano X and Ledger Nano S Plus work identically with one exception – the Nano S Plus doesn't support Ledger Live on iOS.
Both models are fully compatible with the Ledger Live software on desktop operating systems like Windows, Mac, and Linux. And they both integrate with the Ledger Live mobile app on Android smartphones and tablets.
The one difference is that the Bluetooth-enabled Ledger Nano X can also be used with Ledger Live on iOS mobile devices, while the Nano S Plus lacks this iOS support.
Beyond Ledger's own software, both the Nano X and Nano S Plus are compatible with over 50 third-party wallet apps. Whether you prefer open-source favorites like Electrum and MyEtherWallet, or multi-currency wallets like Exodus and Coinomi, you'll have plenty of wallet integration options.
So when it comes to software compatibility, your choice between Ledger Nano models mainly depends on iOS mobile support. But both deliver broad interoperability.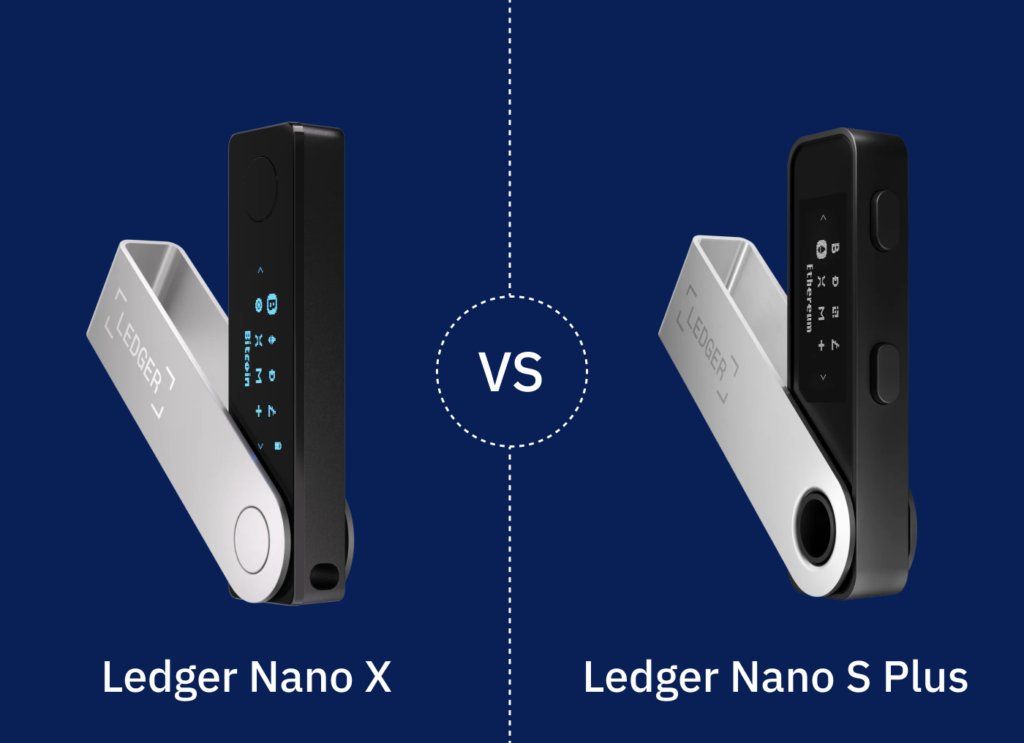 Connecting to Devices: Comparing Nano X and Nano S Plus
When using your Ledger hardware wallet with other devices, the Ledger Nano X enjoys a connectivity edge over the Nano S Plus thanks to Bluetooth support. But both models can integrate with desktop and mobile setups.
The Nano X pairs with iOS and Android mobile devices via Bluetooth, allowing wireless connection with the Ledger Live mobile app for monitoring balances and sending transactions. The Nano S Plus lacks Bluetooth, requiring a physical USB cable connection.
On the desktop, the playing field is more level. Both the Nano X and Nano S Plus connect to Windows, Mac, and Linux computers using the provided USB cable to interact with wallet interfaces like Ledger Live.
For mobile use, the Ledger Nano X's wireless Bluetooth connectivity provides a better user experience. But the Nano S Plus can still connect to Android mobile devices with a cable, just not iOS. On desktops, both models offer direct wired connectivity.
Weighing the Pros and Cons: Nano X vs. Nano S Plus
When deciding between the Ledger Nano X and the Ledger Nano S Plus, it helps to outline the pros and cons of each model:
Pros:
– Bluetooth mobile connectivity
– Supports iOS devices
– Larger screen and interface
– Holds more apps with larger memory
Cons:
– More expensive price tag
– Shorter battery life
– Larger/heavier than Nano S Plus
Pros:
– More affordable price
– Compact and lightweight
– Identical core security features
– Supports nearly all the same cryptos
Cons:
– No Bluetooth connectivity
– Doesn't support iOS devices
– Smaller screen and interface
By weighing the advantages against the disadvantages, you can determine which model better fits your needs and priorities.
Final Verdict: Choosing Between Ledger Nano Models
When comparing the Ledger Nano X versus the Ledger Nano S Plus, both deliver excellent hardware wallet security with some key differences in features.
If iOS mobile compatibility and wireless Bluetooth connectivity are priorities, the Nano X justifies its higher price tag.
But if you mainly want simple wired desktop security on a budget, the Nano S Plus has you covered for less.
Ultimately, both Ledger devices are very solid options for taking your cryptocurrency security offline. With identical support for thousands of assets, best-in-class encrypted protection, and intuitive interfaces, you can't go wrong choosing between the Nano X and Nano S Plus. Consider which features matter most, and let your specific needs and budget inform your decision.
FAQs
Does the Ledger Nano S Plus support NFTs?
Yes, both the Nano S Plus and Nano X support storing and managing NFTs.
What's the main difference between the Nano models?
The Nano X has Bluetooth/iOS compatibility while the S Plus is wired-only but cheaper.
Which supports more cryptocurrencies?
The Ledger Nano X and S Plus support an identical list of over 5,000 cryptocurrencies.
Is the Bluetooth Nano X less secure than the wired Nano S Plus?
No, both devices use the same core security architecture so wireless vs wired doesn't impact security.