Fantom Wallet
We have already discussed how Fantom works in our big article titled "What is FTM". In another article, we talked about an important advantage that FTM can be staked, which many investors benefit from. However, much of this is hardly achievable without a reliable and secure wallet. In this article, we will look at the two best Fantom(FTM) wallets, which are recommended by the official website of Fantom. The first one is a software type of wallet, and the second is a hardware type.
Now let's start with the first wallet: the Fantom Wallet. It is a software wallet native to Fantom's network.
With Fantom Wallet, you can:
1. Install the PWA wallet
2. Create a wallet
3. Load an existing wallet
4. Send and receive FTM
5. Stake, claim, and unstack FTM
6. Using your Address Book
7. Voting on Proposals
How Does The Fantom Wallet Work?
As we mentioned above, Fantom Wallet is the official wallet for the Fantom project. It lets users store, send, receive, and stake FTM tokens. The wallet is easy to use and has a simple user interface, so no one will be confused about how to handle their finances.
The Fantom Foundation also says that the wallet is the safest and most secure way to keep FTM tokens and other tokens in the FTM ecosystem. Users get to hold only copies of their private keys, which means that no one else can access or control their funds.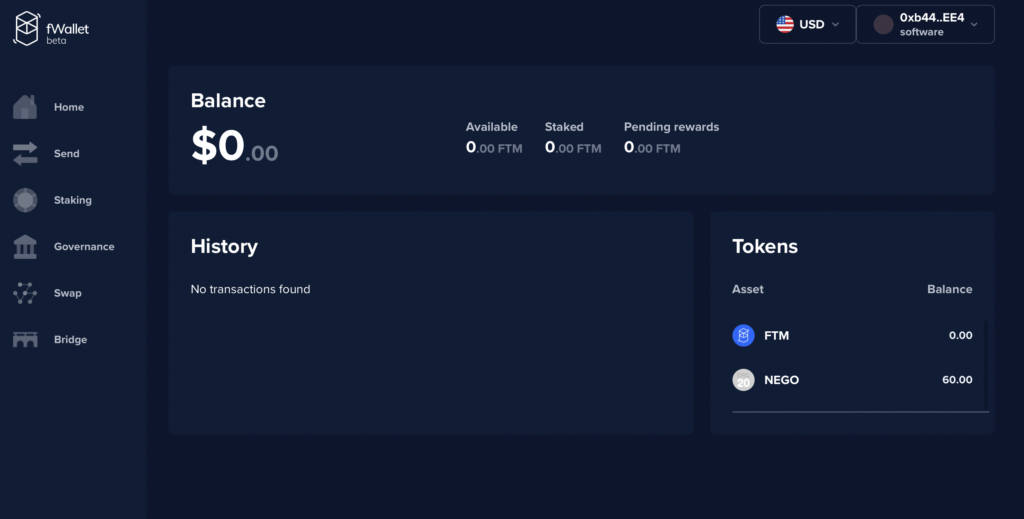 One of the main functions of this wallet is the possibility of staking.
FTM staking is a way for users to help validate the network and get rewards based on how much they staked. They can also join the network governance system, which lets them vote on which upgrade proposal they want to be put into action.
In addition to its own FTM token, the wallet can hold more than 15 other assets at the moment.
Fantom Wallet is a web wallet that can also be used as an app for Android or iOS.
Installing the Wallet
The Fantom Wallet has been created as a Progressive Web App (PWA). These are easy to update across all platforms via a single codebase without requiring approval from third parties, perfect for consistently rolling out new features.
Let's start with the installation. It is very easy!
Chrome (Windows/macOS/Linux)
Step 1: Open the Fantom Wallet in Chrome.
Step 2: Click on the [+] button in the address bar.

iOS
First Step: Open the Fantom Wallet in Safari.
Second Step: Click the Share button in Safari (at the bottom).
Third Step: Click "Add to Home Screen".
Android
Step 1: Open the Fantom Wallet in Chrome.
Step 2: Click Settings (top right corner).
Step 3: Click "Add to Home Screen".
Creating a Wallet
After installation, you need to create a new wallet.
Step 1: Go to pwawallet.fantom.network.
Step 2: Click on "Create Wallet".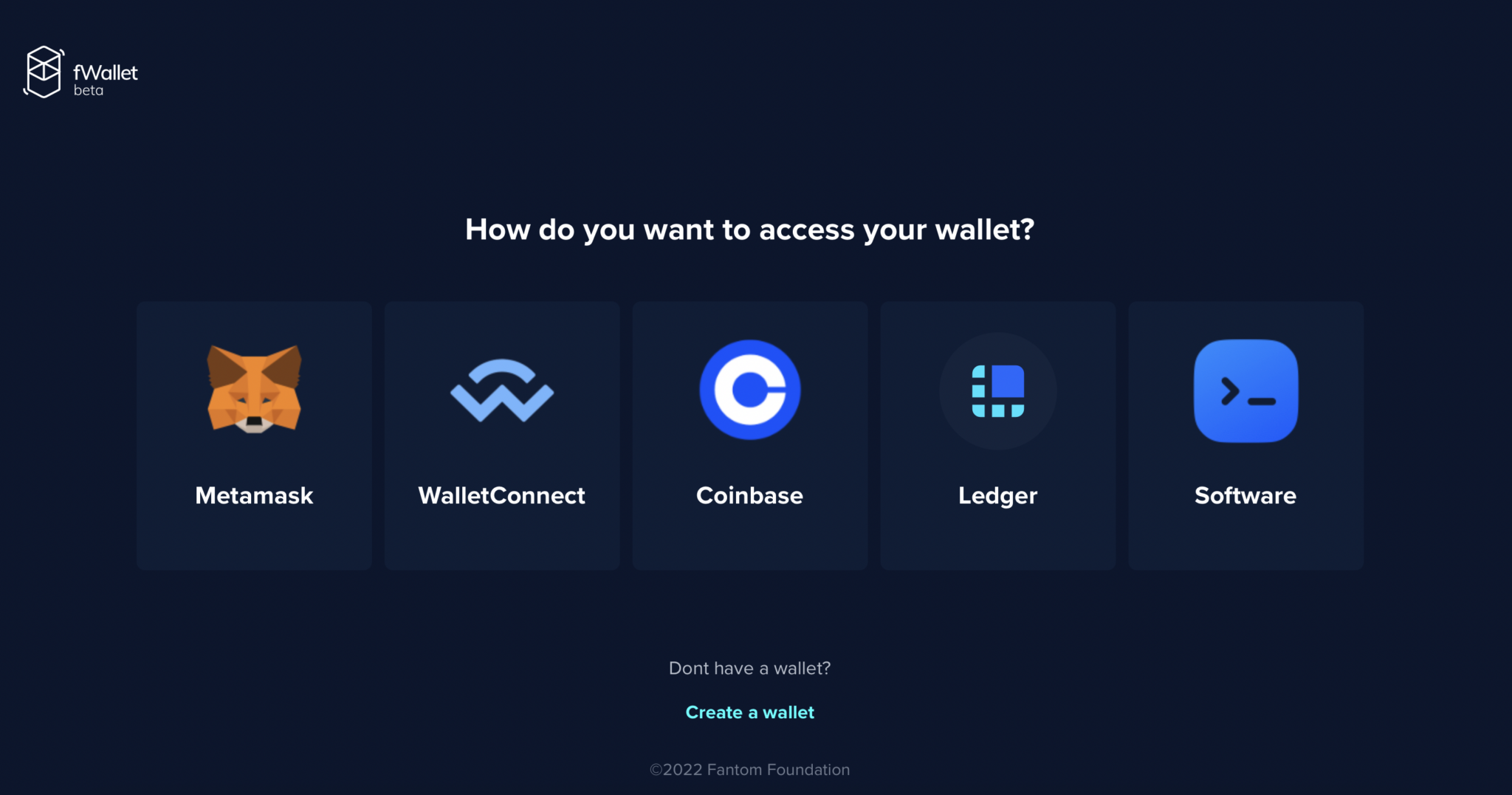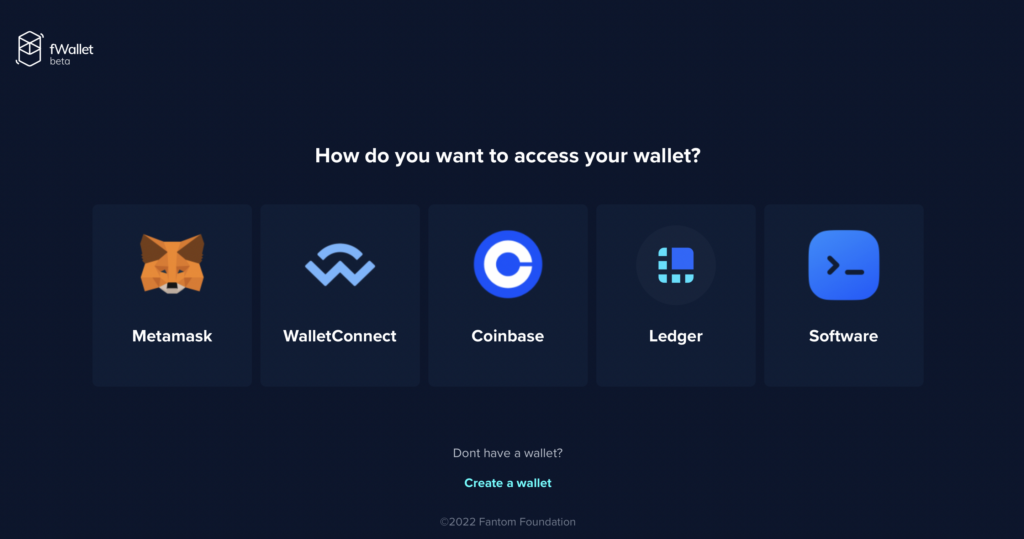 Step 3: Enter a strong password. The password has to be at least 8 characters, including one upper-case letter, a symbol, and a number.
Step 4: Re-enter the password and click on the checkbox. Now you will be able to download the keystore file. You can use the keystore file and password to access your wallet on other devices.
IMPORTANT! A keystore file contains your private key encrypted with the password you chose above. Make sure to store it in a safe place.
Step 5: Write down your 24-word mnemonic phrase and your private key, which you can find by clicking the text "View your private key".
IMPORTANT! Do not share your mnemonic or private key with others. Both will allow access to your wallet and your funds.
Step 6: Now verify your 24-word mnemonic phrase by entering it in the correct order.
Step 7: Click "Access your wallet". You will now see your wallet with the public address displayed on the home screen. To access the wallet, simply click on the address.

Is Fantom Wallet Safe To Use?
Fantom Wallet is almost as safe as web and mobile app wallets can be. The wallet has some good safety features; its users are the only ones who can get to their private keys. However, when it comes to web and mobile wallets, the device becomes the weak link, not the wallet itself.
But Fantom Wallet works with Ledger, one of the most well-known companies that makes hardware wallets, to solve this problem as well. By letting its users combine Ledger hardware and Fantom Wallet software, Fantom pretty much fixed all of the wallet's security problems and made it a safe place to store FTM tokens.
PROs of the Fantom Wallet in terms of safety
✔️The multi-address management function, which divides the wallet into three accounts: main, deposit, and withdrawal, is an intriguing security mechanism that Fantom uses. This lessens the chance that harm from wallet address exposure will occur and prevents the wallet from being exposed when using the services.
✔️ On Fantom, creating a wallet involves two steps. As you saw above, the wallet will display a 24-word seed phrase for you to write down once you've created a unique password. You must then say the phrase once again in order to open the wallet. There is an option to access different wallets within the Fantom Wallet application, which adds to its overall convenience.
CONs of the Fantom Wallet in terms of safety
❌ There are no additional security features like two-factor authentication, fingerprint confirmation, etc. Each wallet has a unique password that users must enter when making a transaction or logging in for the first time. This password is pretty much the only thing keeping people from "breaking in,"
Ledger Nano S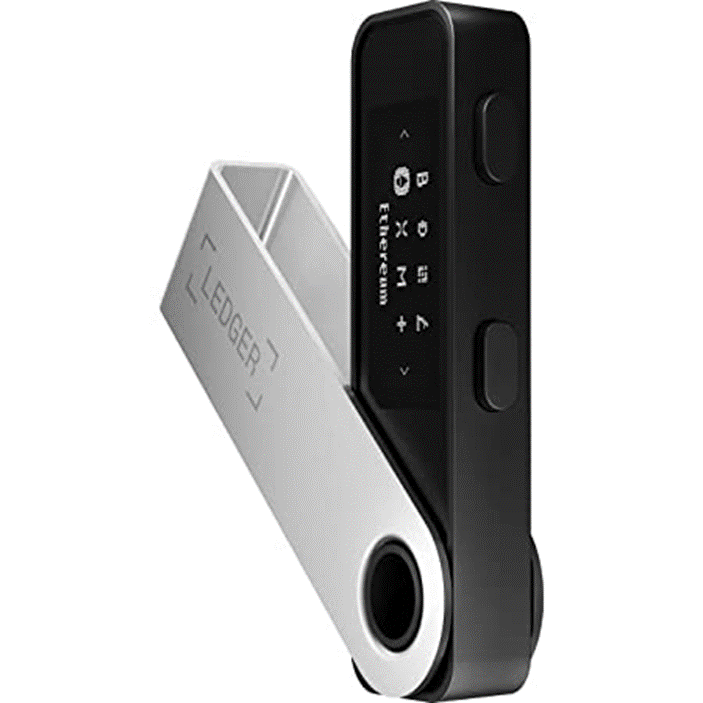 The Ledger Nano S hardware wallet has a secure chip and a custom operating system that make it very safe. It gives investors control over their private keys and is backed by the biggest name in the industry.
Investors can store more than 1,100 cryptocurrencies and tokens on the Ledger Nano S.
23 cryptocurrencies are directly supported by Ledger, and the rest are supported by third-party applications.
PROs of Ledger Nano S
✔️ An affordable cold wallet: At $59, the Ledger Nano S is less expensive than several other hardware wallets, making it a good low-cost, highly secure option.
The private keys never leave the device: Unlike hot wallets through cryptocurrency exchanges, Nano S users hold their private keys. They're never removed from the device or accessible via the web.
It supports more than 1,100 coins and tokens: Investors can store popular and lesser-known coins and tokens on the Ledger Nano S device.
CONs
❌ Limited storage space for crypto apps: Most cryptocurrencies require a crypto application, and the Nano S only holds up to six apps, depending on the size.
The display is small and isn't a touchscreen: The device screen is less than an inch tall, as the whole device is only 17.4 mm tall (0.685 inches). It features two physical buttons instead of a touchscreen.
Not as mobile-friendly as other wallets: The Ledger Nano S isn't equipped with Bluetooth, so it requires a USB cable to connect to a computer or Android device.
How to Set Up Fantom On Ledger Live
The Ledger Nano S is fairly simple to set up and use. Users must download Ledger Live to their computer or mobile device and choose the option to set up a new device.
From there, the application walks users through the process, including a guided security checklist.
Step1. Now launch Ledger Live and click on Settings.

Step 2. Under Settings, select the Experimental features tab.

Step 3. Scroll down and enable the Developer mode toggle switch.

Step 4. With Developer mode enabled, select Manager in the sidebar and search for Fantom. Confirm that the Fantom app is v1.0.6, and click Install.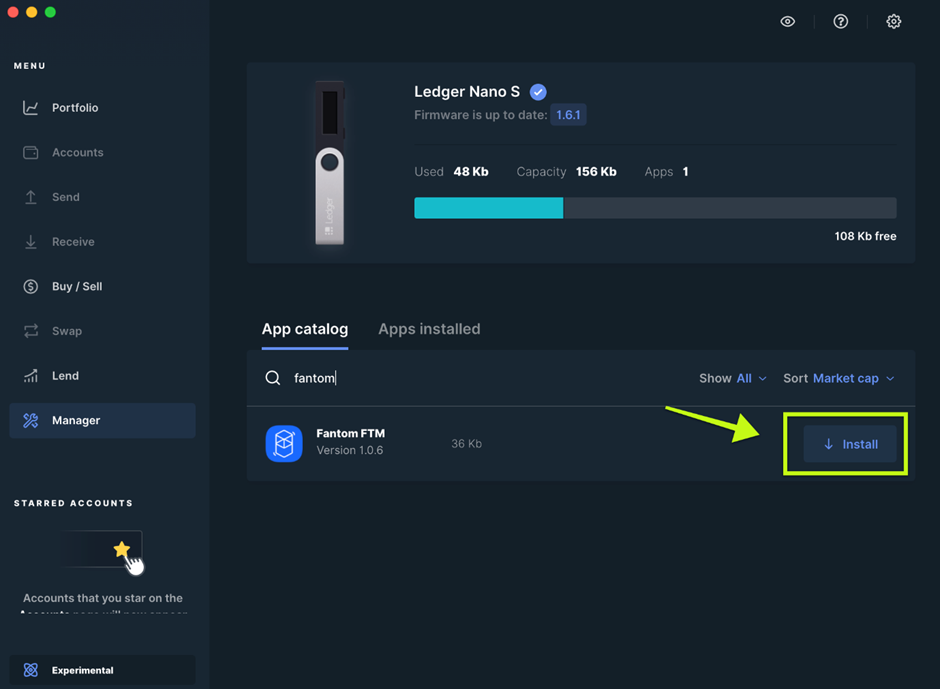 Step 5. Select the Apps installed tab to confirm the installation was successful.
You will see Fantom FTM Version 1.0.6.

Once set up, investors use the Ledger Live app to perform most actions and confirm transactions by physically pressing both buttons on the Ledger hardware wallet.
Although the screen is small, it works well for the limited interaction required. However, if you need to enter your 24-word recovery phrase, it can be tedious to scroll through the alphabet to find each letter.
How To Use The Fantom Wallet With Ledger?
You can now interact with the Fantom Wallet using your Ledger.
You can see your address's information and balances, send and stake FTM.
1. To access the wallet, connect the Ledger to your computer and enter your pin.
2. Now select the Fantom app.
3. Next, if you see the text "Pending Ledger review" click both buttons on the top of the device to skip that screen. This is a normal Ledger procedure for Experimental apps.
4. Lastly, you will land on the Fantom app screen where you can confirm that the app is version 1.0.6 and it's ready.
5. With the Fantom app running, access the Fantom Wallet homepage and click on the Ledger button.

6. In the following screen, you will see a list of FTM accounts on the Ledger. Pick one and will now have access to the wallet with your Ledger Nano.
That's it!
Now you have at your disposal the official software wallet of Fantom, running on the most secure hardware wallet in the market.
Is Ledger Nano S safe to use?
The main reason people buy a Ledger wallet is to protect their funds. The company goes above and beyond industry standards for security, including tamper-resistant Common Criteria (CC) EAL5+ certified Secure Element (SE) chips on Nano devices and your private keys stay on the secure chip.
Ledger is also the only company that makes hardware wallets with Secure Element chips and its own operating system (OS) called Blockchain Open Ledger Operating System (BOLOS).
Ledger devices undergo an independent audit from the French National Agency for the Security of Information Systems (ANSSI). At the user level, there are additional security measures as well. For instance, to purchase altcoin, users must physically push both buttons on the device simultaneously, making it uncrackable by a cyber-criminal. The hardware wallet requires a minimum four-digit pin code and users get a 24-word recovery phrase to store in a safe, offline place.
Verdict
The Ledger Nano S is one of the best crypto wallets in history. It is a safe hardware wallet that looks like an old good USB flash drive. Ledger Nano S is perfect for people who are new to cryptocurrency or who only invest in it occasionally but want a safe way to store their assets offline. And on the other hand, active and more advanced traders who want to have mobile access to their cryptocurrency may prefer a device with Bluetooth.
FAQ
Is the Fantom wallet worth it?
In our opinion, the Fantom Wallet might be the best way for beginners to store and use FTM tokens, both because of how it performs and how safe it is. As the wallet was made by the Fantom Foundation, it has everything a user of the Fantom ecosystem might need.
What wallets support Fantom?
On Fantom's official website you can see all the wallets that are compatible with FTM
How secure is Fantom wallet?
Fantom Wallet is almost as safe as web wallets and mobile app wallets can be.
Can I buy FTM on Trust Wallet?
Yes, Trust Wallet supports Fantom.
Can I store FTM on Ledger?
Yes, you can safely store FTM on your Ledger Nano S and Nano X.
Final Thoughts

While there are many, many excellent wallets on the market that work with FTM, we think the best option for beginners is to pair the official Fantom wallet with Ledger's powerful Nano S device. We recommend the official Fantom wallet because it's really easy to use and of course, being an official product, it's the first to get all the updates and upgrades available within the Fantom project. We think this is a great advantage.
Of course, you can also use the Fantom wallet separately, but together with the Nano S, you will get an extremely high level of security. Just keep in mind that you have to buy the device.
From a security standpoint, it's definitely worth paying an extra $50-$60.
But, as always, you decide!