Ripple's Price Prediction Methodology
We have discussed in detail What is XRP. Now it's time to take a comprehensive look at the XRP's price predictions from 2022 to 2030.
Ripple's tremendous rise began in 2017 when XRP briefly became the second most capitalized cryptocurrency in the world after Bitcoin. Unfortunately, this surge was followed by a long and painful decline in XRP's exchange rate and market capitalization. Moreover, in 2020 the US Securities and Exchange Commission (SEC) filed a lawsuit against Ripple, and things worsened.
However, the crypto market boom of early 2021 helped XRP recover and regain its footing.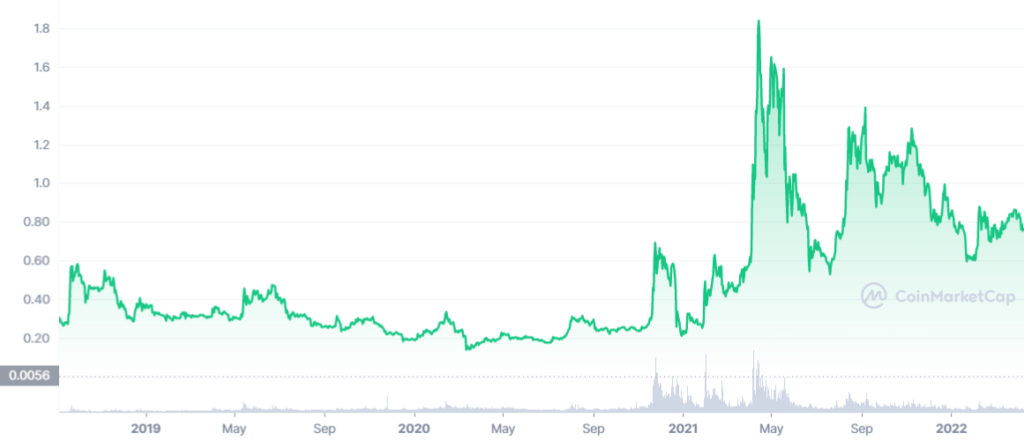 Okay, but what the future holds?
So, to answer this question in a more reasoned way, we suggest reading the following three observations։
Ripple's technical analysis
Expert opinions
Factors affecting XRP price
Ripple's Technical Analysis
TradingView can be a valuable technical analysis tool for analysts or potential investors. Many traders use a selection of complementary indicators to make better decisions. This tool simplifies the task by combining the most popular indicators and their signals.
Please, check the XRP's technical analysis from TradingView, updated in real-time.
NOTE։ It is not recommended that anyone buy or sell any financial instrument based solely on the recommendations of the technical analysis. Indeed, recommendations merely indicate the fulfillment of certain conditions of a set of individual indicators that may help the investor to spot potentially favorable conditions for a transaction if this is consistent with his/her strategy.
In reality, various other factors can significantly affect the price of a given cryptocurrency. By the way, these factors are not taken into account in the case of technical analysis.
Expert Opinions on XRP Price Predictions from 2022 to 2030.
To understand any market well, it is crucial to take the time and do your own research. This is perhaps the most effective and correct way to go, especially when it comes to the crypto market. But at the same time, one shouldn't ignore the so-called Expert Opinion. Like technical analysis, expert opinion on crypto price predictions can't consider many subjective factors, although not taking them into account is also wrong.
Below we present the predictions for XRP from several authorities on the web.
1. Digital Coin Price
Digital Coin Price's Ripple price prediction is fairly optimistic. Although this platform does not see this digital asset breaking through the $5 mark anytime soon, it thinks Ripple's price might manage to stay firmly above $1 in the foreseeable future.
Overall, their XRP forecast is bullish in the long term.
2. GOV Capital
GOV Capital is predicting an even stronger bullish trend for XRP than Digital Coin Price. Their forecast about Ripple's price has the crypto asset reaching $5 by 2027. They also expect the XRP coin price to increase by over 80% in one year — which is definitely achievable if there is a new market boom and great news from the Ripple Labs team.
3. Wallet Investor
Wallet Investor's prognosis is also bullish but a lot more reserved than that of the other platforms on this list. While they don't see the XRP coin hitting $5 any time soon, they still expect it to have positive price dynamics.
4. TradingBeasts
This site uses linear and polynomial regressions to predict future values of XRP. So, according to them, in 2023 XRP might sell at an average price of $0.4421748 in January and $0.4420154 in December. The site provides a bullish XRP price prediction from 2024 to 2025. In 2024, XRP's average trading price might be $0.4590313 in January and $0.5001886 in December. In 2025, XRP's average forecast price can be $0.5114510 in January and $0.6146048 in December.
5. Cryptopolitan
This source is also positive on XRP price predictions.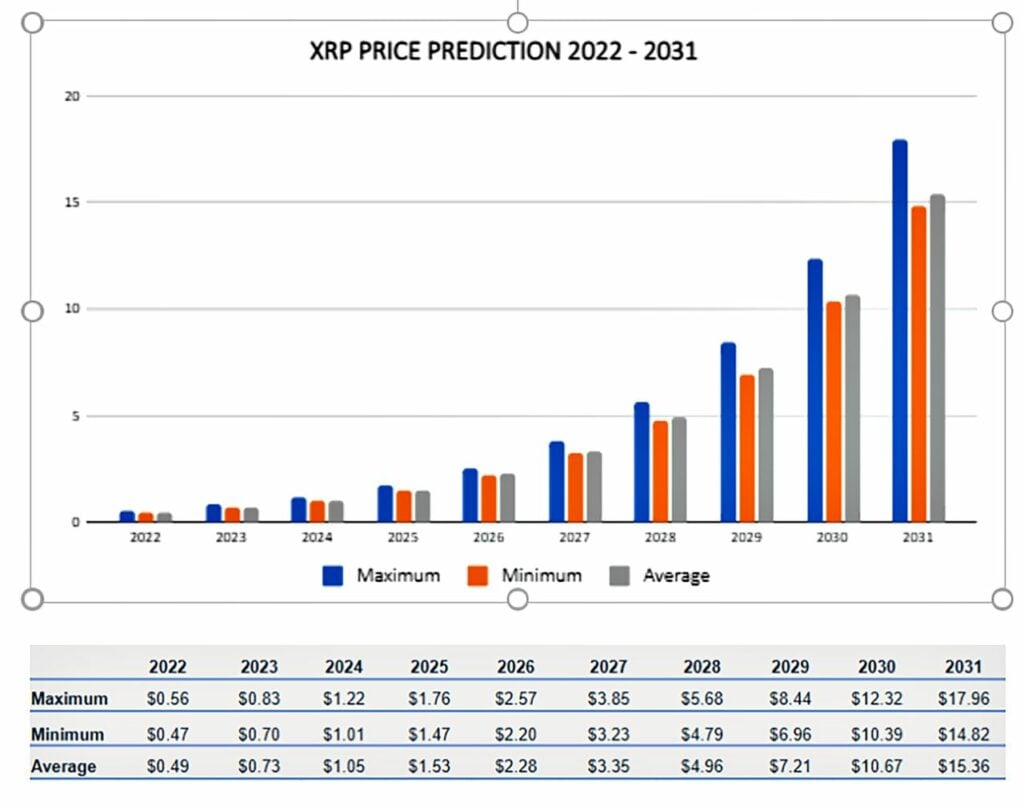 Factors Affecting XRP Price
Now let's look at what and how can potentially affect the XRP price.
1. The Technology of Ripple
The technology that fuels XRP is one of the most popular aspects that affect its price. Ripple Labs wants to make international payments much easier and more convenient. Until the creation of the RippleNet, there was SWIFT. It was a system for international payments that was used by all the banks in order to transfer money. It was the only way until Ripple arrived.
2. The Hype
The almighty hype – something that makes people and things famous in a matter of seconds. Things are no different in the crypto industry. If you talk about crypto and the media write about it, the price of that crypto will change – it has become a proven relationship.
3. The Crypto Holders
There are people who hold vast amounts of certain cryptos – so much that they can actually affect the price of crypto with their actions. These people are called "whales." The nickname was created because the whales affect a lot of other small fish with their movement in the ocean, a behavior that nicely depicts how things work in the crypto industry with the big players.
But there are also parts of the world such as South Korea or Malta, where a lot of XRP is located at the moment, and their exchanges, as well as the users of those exchanges, who can affect the price a lot. These two states are the leading traders of XRP at the moment and they can significantly affect the market.
4. The Competition
There is nothing absolute in the world of cryptocurrency and such is the case with XRP as well. It is inevitable that they are on a very good path and work continuously on becoming better. Their technology is becoming more accepted worldwide, and they are very proud of it.
However, there is one small factor – other cryptocurrencies. Currently, XRP is facing a lot of competition, and the outcome of such rivalry is never certain.
5. The Լawsuit Against SEC
Ripple won the lawsuit against the SEC on July 13, 2023. After the court accepted that XRP tokens are not securities, the price went up 96%! It was a significant increase in one day. Read more about Ripple's legal battle with the SEC.
6. Other factors
There are also other completely unpredictable factors that can appear unexpectedly and dramatically change not only the price dynamics of XRP but the crypto market in general. Unfortunately, the impact of such factors is entirely impossible to calculate until they occur.
Ripple's Historical Price Data
Now that we have discussed the factors affecting the price of XRP, let's take a look at what was the path of XRP in the last five years.
As we mentioned above, since 2017, the price dynamics of XRP have been characterized by various ups and downs. Waves of rapid growth were followed by long periods of decline or stagnation. However, after 2021, the situation seems to have stabilized relatively.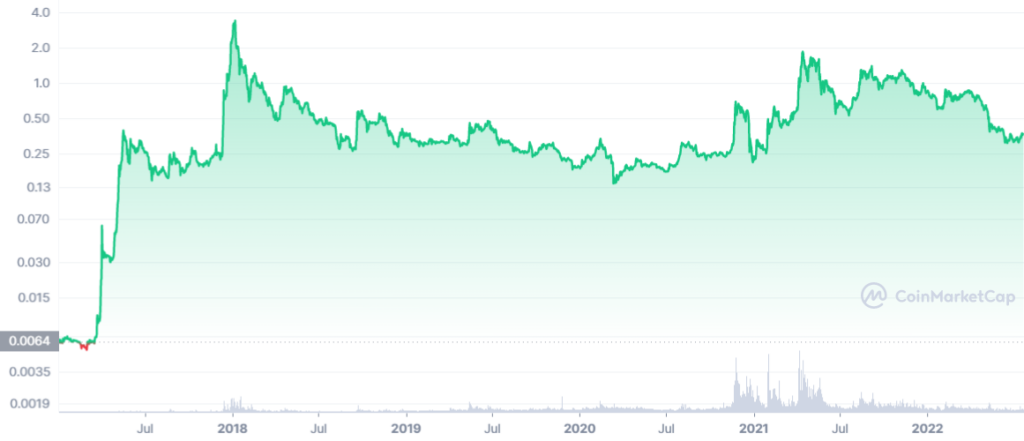 This historical chart can be a good tool for further predictions.
The XRP Price Prediction For 2025?
Relying on the XRP predictions by 2025, we see XRP continuing to gain value through the next three years.



Our colleagues from Trading Education are more optimistic in their XRP price predictions from 2022 to 2030, with the price forecasts as high as $8.07 for 2025 — about a 2,023% increase over its current price.
NOTE: Much depends on the outcome of the lawsuit against the SEC. If Ripple wins, the price of XRP most likely might catapult.
The XRP Price Prediction for 2030?
When making long-term predictions, it must be noted that Ripple is working hard to improve its services and network – Ripple Net. This is definitely a significant factor for long-term positive growth. And if they also manage to defeat the SEC deregulation and no new cataclysms emerge, we predict that XRP might eventually cross the $10 mark by 2030.
Here is the XRP price prediction for 2030:

Will XRP Reach $500 Or $1000 In The Nearby Future?
XRP is one of the world's foremost cryptos – and likely the most intriguing ones. Ripple already has many innovative financial services that enable cross-platform and cross-blockchain payments. They are even competing with SWIFT.
Multiple financial institutions, including MoneyGram, have piloted XRP for transborder payments. XRP has a lot of advantages over many other cryptocurrency projects (transactions' speed, fees, etc.), as well as an already established community and platform. The Ripple team seems to be extremely dedicated to their project and actively works on making it better and regularly upgrading it.
Considering all this, it does not seem unrealistic that XRP can reach the price of $500 or even $1000 in the upcoming two decades. Of course, this kind of growth can only happen if the global crypto market rises drastically.
Will Ripple Recover After The Lawsuit?
The US Securities and Exchange Commission (SEC) filed a lawsuit against Ripple on 22 December 2020 after saying that the San Francisco fintech business raised over $1.3 billion via unlawful ways. The SEC asserted that Ripple made improper security offers of XRP, Ripple's native token.
The Impact And Recovery
The lawsuit spooked XRP investors, making them feel they could be owning a security. Many XRP maximalists tried to calm the market by arguing that the majority of XRP trade was outside the US, therefore the SEC's jurisdiction had no influence on them and wouldn't affect the price. Clearly, they were mistaken. In the days that followed the SEC's lawsuit notice, XRP's value dropped by about 70%. XRP dropped from $0.58 to $0.17.
The sentiment switched to pessimistic, and many investors feared that XRP would plummet to zero. But XRP proved that the lawsuit couldn't prevent it from having a big price pump. The XRP's price has always tracked the rest of the altcoin market. So, when the altcoin market climbed in March 2021, XRP's price rallied with it. An investor's XRP portfolio increased by more than 1,000% after buying at the bottom of the litigation meltdown.
Thus, we can see that even though the trial is not over yet, the price of XRP has started to recover.
XRP Price Prediction After The Lawsuit
Most likely Ripple's victory might have a blowing effect on the XRP price; nevertheless, it is also clear that a bull run might continue regardless.
This same opinion is shared by many in the community. Some predict a 20-fold increase in the price and some talk about a 7-fold increase. We also believe that in the case of Ripple's victory, the price of XRP can increase by 7-10 times, reaching $3.39.
FAQ
Final Thoughts
Now you have a good idea of XRP price predictions from 2022 to 2030.
As of the end-2022, we can state that XRP is a good investment for those who want to start crypto trading in a low-cost way. If you are looking for an inexpensive option to invest in cryptocurrency, XRP could be a proper option due to its huge growth potential.
To start buying XRP with the smallest possible price and without any fees, you can use Blocktrade as a very secure and reliable exchange platform.