What Is Ripple?
With the goal of becoming a secure and decentralized payment network for banks and financial organizations, Ripple was launched in 2012. The main idea behind establishing Ripple was to become a middleman currency to allow global trade, which means anyone can trade any cryptocurrency to the euro or other currencies using Ripple's token (XRP). Therefore, Ripple is known chiefly as a competitor to SWIFT because it's far away from other blockchains. 
All the transactions on the Ripple network are done in only a few minutes, making it a faster network than SWIFT. Furthermore, most financial transactions in the Ripple network have a fee of less than 1 cent. 
One of the differences between Ripple and other blockchain networks is that it aims to help banks and financial institutions conduct international transactions through this network. In contrast, other blockchain networks were created to eliminate mediators, banks, and financial institutions and create a new payment method. 
XRP is the name of the native token on the Ripple network and one of the largest cryptocurrencies on the market. It is considered a bridge between different currencies because XRP holders can use their coins to exchange crypto and fiat currencies. In addition, XRP can be used as an investment or for collecting NFTs. 
Furthermore, unlike other cryptocurrencies, XRP doesn't require any mining process because almost all the tokens are pre-mined. It means they were created before the project was launched. However, only half of them are in circulation. Read more in our comprehensive article on what is ripple.
You can easily buy XRP on BlockTrade with zero trading fees. You can buy ripple on BlockTrade through various payment methods from these pages: buy ripple with Credit Card, buy ripple with PayPal, buy ripple with Debit Card, buy ripple with Google Pay, buy ripple with Apple Pay, and buy ripple with Bank Transfer. 
What Is Ethereum?
The name of Ethereum is known to almost everyone because it is the second-largest cryptocurrency by market value, after Bitcoin. Launched in 2015, Ethereum is a decentralized platform with the goal of allowing its users to freely run applications without the need of a third party. Therefore, it is not only used as an investment, developers can use Ethereum's tokens to develop decentralized apps on its platform. 
Although Ethereum is so popular, it lacks some abilities: it is not as fast as other cryptocurrency blockchains, and the process of staking its tokens is not energy-efficient. Meanwhile, all these drawbacks didn't make investors and developers leave this platform. Currently, more than 3000 dApps are running on this blockchain, making it one of the most popular platforms for developers. 
Ethereum has a native token called Ether (ETH), which can be used as an investment, transaction fees, staking, and collecting NFTs. 

You can easily buy Ether on BlockTrade with no trading fees. You can buy Ether on BlockTrade through various payment methods from these pages: buy ripple with Credit Card, buy ripple with PayPal, buy ripple with Debit Card, buy ripple with Google Pay, buy ripple with Apple Pay, and buy ripple with Bank Transfer. 
Similarities Between Ripple and Ethereum 
They both support smart contracts. 

Ripple and Ethereum both are based on blockchain technology, but they have different audiences and purposes. 

Both tokens can be used to collect NFTs. 
Differences Between Ripple and Ethereum 
Unlike other cryptocurrencies, Ripple and Ethereum don't have so much in common. Mainly, because they are created for different purposes. So, their differences are bolder than similarities.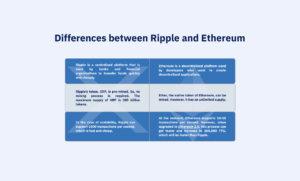 Which One Is a Better Investment? Ethereum or Ripple (XRP)?
It's time to decide! Before considering the factors to consider while investing in crypto, we should note that there is no guarantee that any cryptocurrency will become %100 profitable in the future. However, the following factors can help you decide which one may have a better chance. But, consider the volatility of this world, and then decide on buying crypto. 
The good news is that some experts analyze different crypto aspects to help others discover which one to buy. Here are the factors to check before purchasing cryptocurrency: 
Technical Analysis.

 This is about whatever happened in the past, from news, changes, and price fluctuations. It can tell the buyer if this cryptocurrency will be profitable in the future. Or in which cases its price had risen. 

Fundamental Analysis.

 This is about the current situation of crypto. It can tell you if this token is in good condition. You should note that the recent news about the company, its market, stocks, and members can help you decide if it is an excellent option to buy or not. 

Price Predictions.

 This will help you decide if the cryptocurrency you want to buy might have a promising future. However, it is just predictions that may help you know about the probable end of crypto. 
Ripple vs Ethereum: Price History 
In this section, we look at the past of each cryptocurrency to see what obstacles they had and how profitable they had been. 
Ripple (XRP) Price History 
The XRP tokens were officially released in June 2014, with an initial price of $0.005. This token didn't have significant changes in price until 2017 when it suddenly experienced a considerable increase and reached $3.84 in December. It was the highest price this token had up until now. In 2018, it fell and reached less than $1 again. The following year also passed with almost a stable price between $0.3 and $0.2. 
Furthermore, due to the news about Ripple's being sued by the SEC in 2020, turbulence happened to its market. But then, in 2021, when Ripples won the first trial, the XRP price increased to $1.83. It shows how this trial news influenced the market. The murmurs about the next trial and the final result of this lawsuit came to the market, and the XRP price again dropped from $0.40 to $0.50 per coin. 
Everyone seemed to be waiting for the news about the final result of the Ripple and SEC legal battle, which came out on July 23, 2023, when the court decided that XRP is not security and declined SEC's claim. This news affected the price of XRP, and it started to increase again. The current price of XRP is $0.79 on July 26, 2022. 
Ethereum (ETH) Price History 
The initial price of Ether (ETH) was $0.31 per coin when it launched in 2015. However, it soon became a popular cryptocurrency and reached $14 in one year. The Ether's growth in price didn't stop here; it even had another huge rise in 2017 and could suddenly get as high as $400. It was a surprise for Ether's holders because their assets had multiplied in just two years.
In 2018, Ether holders became even more happy because its price amounted to $1,558 per coin. However, it didn't last because its price started to fall in 2019 and 2020. The average price of this token was around $200 in these years. Meanwhile, 2020 wasn't a good year for many cryptocurrencies, and almost all experienced a recession.
After a two-year of stagnation, 2021 changed everything. Ether reached its highest price of $4,733 in November of this year. That was the highest price that Ethereum had in its history until now. Currently, Ether's price is around $1,683 per coin in July 2023. 
Ripple vs Ethereum: Price Predictions 
It's time to see what experts think about the future of each crypto. 
XRP Price Predictions 
The analysts of

Technopedia

predict an average price of $3 for XRP in 2025. They also think its price would possibly reach $6 by 2030. 

CoinCodex

crypto experts are not as optimistic as Technopedia experts. Accordingly, they predict the highest price of $1.5 in 2025 and $1.84 by 2030. 

CryptoNewz

analysts think that the possible price of XRP in 2025 might be around $1.5 by 2025 and it could reach between $3.81 to $5.49 by 2030. 
Ether Price Predictions 
According to 

CryptoNews

, the Ethereum might reach $4,559 per coin by 2025. The analysts of this site also think Ethereum might possibly be as high as $20,643 by 2030.

The maximum price that

CoinCodex

 experts predict for Ether by 2025 is $7,426. They also think it could reach $9,000 by 2030.

Coinpedia

predicts an average price of $4,421 for Ether by 2025. Its analysts think Ether might possible be around $23,000 by 2030.
Bottom Line 
As you can see, you should take your time reading all about different aspects of a cryptocurrency to decide which might be a better investment. In this competition between Ripple and Ethereum, there are many differences that can help you have a prediction about the future of their tokens. However, you should note that the world of cryptocurrencies is full of surprises. Consider the volatility of this market and invest as much as you afford to lose. Furthermore, choose a secure wallet, especially if you want to keep your tokens for a long-term investment. 
In the end, read about the current situation of each crypto on the day you decide to buy. Then check the predictions to have a brighter idea about the future of this market. 
FAQs
Is XRP better than Ethereum?
There is a huge difference between Ripple (XRP) and Ethereum (ETH). Therefore, it depends on what you want to do with your cryptocurrency. For example, Ethereum is a better cryptocurrency for developers who want to create decentralized apps freely. On the other hand, Ripple is used by banks and financial organizations to transfer funds. On the investment side, no one can guarantee a better future for each crypto. It would help if you read more about each crypto's price, predictions, and other analyses to decide which is better. 
Is XRP good for the long-term?
The history of XRP has shown that it could be a good investment for the long-term. However, we recommend you to have an exit point for your investment to sell your tokens at that price to avoid losing money. Whether you want to buy XRP for a long-term or short-term investment, it is essential to keep your coins in a secure wallet. Discover what are the best XRP wallets.
Should I invest in XRP or ETH?
You should note that there is a massive difference between the prices of XRP and ETH. Therefore, considering the current price and how much budget you want to put into this market, you can decide which is a better investment for you. Furthermore, it would help if you read more about the users of each blockchain, their market cap, stock value, and other aspects that can affect their future. 
Will XRP make me a millionaire?
You may wonder if XRP is a good investment or not. You should note that the crypto market is so volatile. Even experts and analysts can't guarantee that a cryptocurrency will be profitable. Therefore, it all depends on how much money you put into this market and how well you know this world. That's why it is not recommended to put all your money into this world with the dream of becoming a millionaire in the future. After you buy crypto, you should always keep an eye on its market to find the best time to sell. 
How many XRP are left?
The maximum supply of XRP is 100 billion tokens; up until now, almost 53 billion tokens are in circulation.  
How many Ethereum are left?
Ethereum doesn't have any limited supply. As of April 2022, almost 120 million tokens were in circulation. However, its supply is expected to be reduced after it is upgraded to the new version, which uses PoS consensus for token staking.