How to Buy Decentraland (MANA)
Make your investments work for you: Buy and sell Decentraland and 40+ cryptocurrencies instantly.
Just 3 easy steps to start investing in Decentraland
Create your account
on Blocktrade

Sign up on the website, and verify your account with complete information.
Select a payment
method

Select whether you want to purchase MANA with PayPal, Google Pay, etc.
Start buying
Decentraland

Choose MANA, select how much you want to buy, and make your first investment.
Learn more about Decentraland
What is Decentraland ?
MANA is the symbol and the main in-game currency of Decentraland. It is an ERC-20 token that lets users purchase, trade or develop virtual lands in a decentralized manner.
Learn more about this cryptocurrency on Decentraland official website.
What is MANA ?
When the Decentraland's MANA token was launched and started trading on exchanges, it was priced at just $0.02. This number increased rapidly and by January 2018 it reached its peak of $0.26. Then, with the price decrease, it was in the trading range of $0.07 to $0.11. The price of MANA started to slowly retreat again, reaching below $0.04 by mid-2020. The value of MANA doubled by the end of 2020 and remained at the level of $0.08-0.09. As 2021 approached, the value of this token increased along with the entire cryptocurrency market and reached its highest level of $1.19 on March 14, 2021. The analysis carried out on MANA currency indicates the high value of this digital currency along with other Meta-market currencies. Due to the price reduction experienced recently, it requires analysis to buy on the spot. Nonetheless, MANA is inexpensive and simple to get, therefore it seems to be one of the finest crypto tokens for newcomers.
You should know that any news regarding Metaverse can affect the value of VR-related cryptocurrencies such as Decentraland's. For instance, when it was announced that the video game company Atari is building a cryptocurrency casino in the virtual world Decentraland, the price of Decentraland Token (MANA) experienced a massive jump. Or when Facebook announced its name change to Meta, a jump in the prices of Decentraland (MANA) was inevitable. Therefore, Decentraland's MANA currency as a valuable digital currency is closely tied to the news regarding Metaverse. But keep in mind that this does not mean giving you a buying signal. If you are working as a trader, you should naturally decide to enter the MANA currency transaction after analyzing the market and exit it at the right time with your desired profit. Meanwhile, for long-term investments, a percentage of the total capital can be allocated to its purchase.
Is Decentraland reliable
Decentraland is a decentralized metaverse built on blockchain functionality. Blockchain is widely expected to become one of the key technologies that enables the development of a fully inclusive cyberspace. A cyberspace that is as secure as the second-generation Internet of the Web. It is thanks to blockchain-based digital identity, digital personalities and digital assets that Metaverse can inherit values such as permission-free access, uncensorability, security, and decentralization. These values are what the blockchain industry is built upon. Regarding security in Decentraland, every change to the status of tokens, including contents or ownership transfers, are recorded by Ethereum smart contracts. The Ethereum blockchain tracks these modifications and verifies them, while guaranteeing their security. There is also a Security Advisory Board (SAB) in Decentraland that oversees the security of smart contracts on the platform. The board is also responsible for reviewing governance proposals to minimize the risk of fraud.
After you've bought MANA
Decentraland (MANA) token holders are important members of the Decentraland platform; Because they are known as part of the network governance (DAO) in each region. Using MANA tokens, they can vote on issues affecting these regions. The total amount of mana tokens held by each member determines the weight of his vote.
MANA tokens are the power behind this platform. In fact, everything on this platform gets its power and value from this token. In addition to its governance use in this game, MANA can also be used to buy LAND or any number of other virtual assets and services in Decentraland.
Your entry to the world of crypto
Other Methods of buying Decentraland
Where can I buy Decentraland
ATM
If there is any crypto ATM near you, it is possible to buy some coins with these machines and you should check to see whether it sells Decentraland or not. However, the process is not as simple as it seems. Furthermore, the ATM rates are somehow more than other methods.
Direct Purchase
You can buy Decentraland directly from another person over the web.
Exchanges
Crypto Exchanges are the safest places for buying Decentraland. You can use Blocktrade as a cheap, secure, and global exchange to buy MANA. You don't need to pay any trading fee while using Blocktrade exchange. Sign up for free, create an account, and purchase MANA with a few clicks.
Blocktrade is available in 100+ countries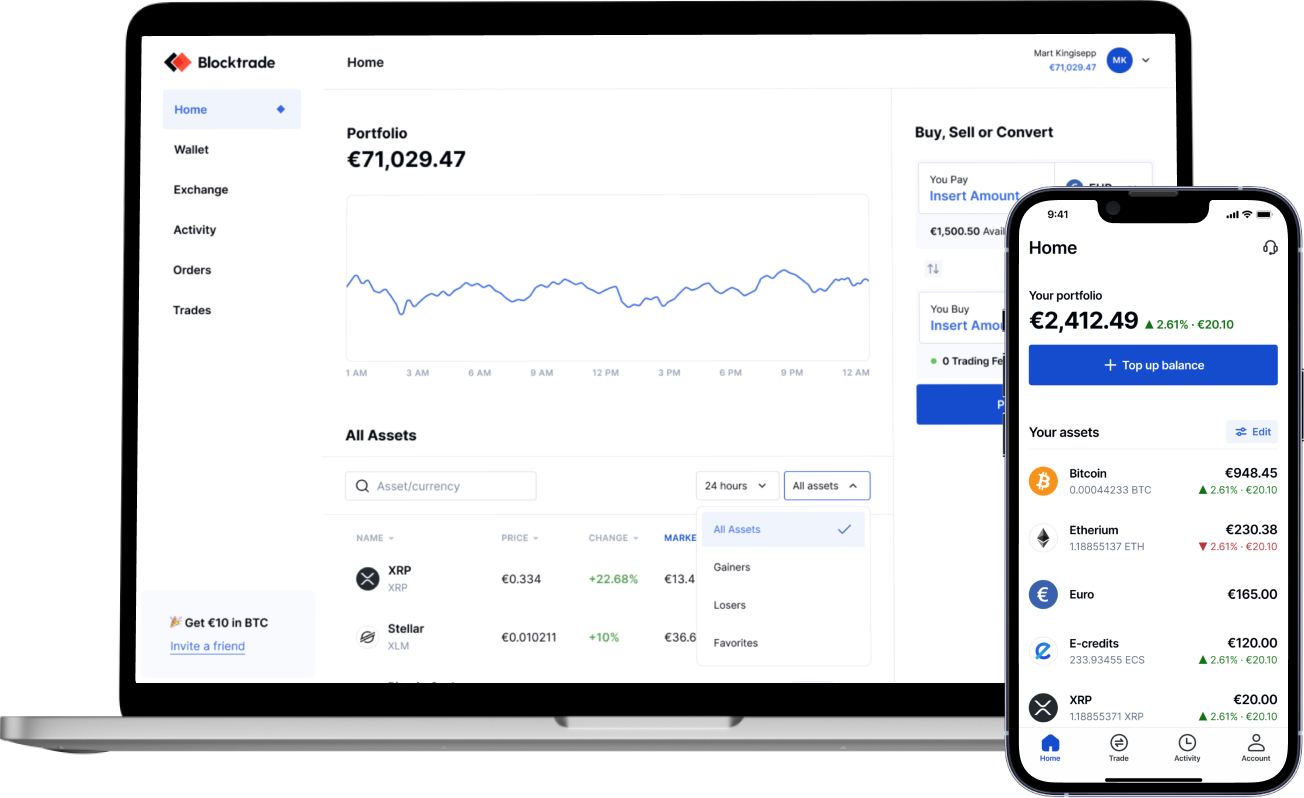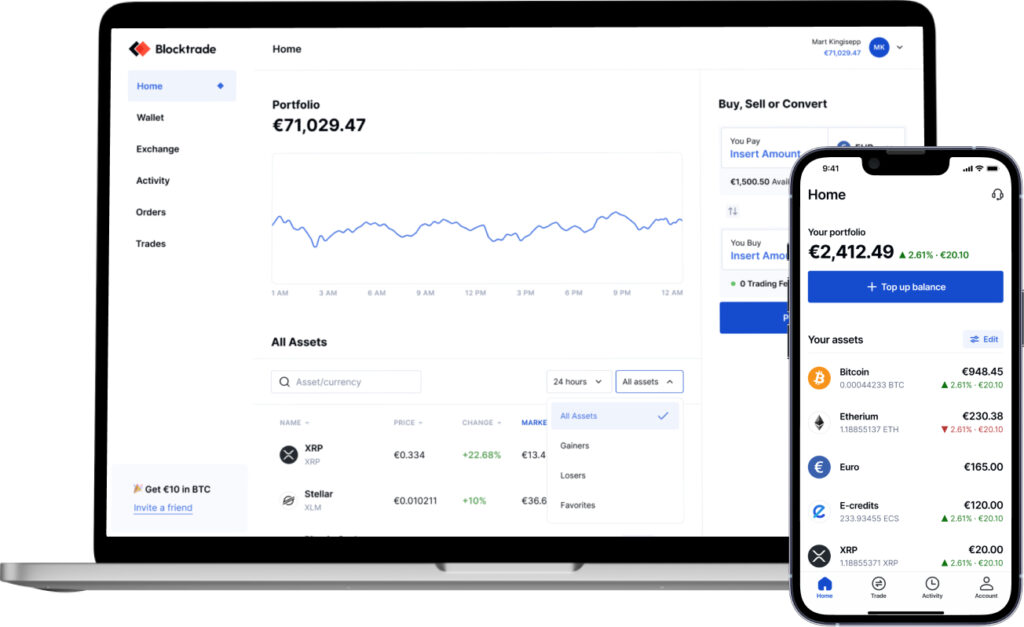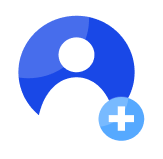 Sign up and verify your Blocktrade account
You'll need a username, email address and a strong password to sign up on Blocktrade. Then, you'll be guided to verify your account.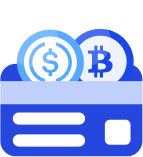 Deposit MANA to your Blocktrade account
To sell Decentraland on Blocktrade, generate a deposit address and transfer the desired amount - just as simple as sending it to any Decentraland address.
Start selling Decentraland!
Once you deposited your Decentraland in your Blocktrade deposit address, you'll be able to sell your MANA.
Frequently asked questions
Start earning from your investments in Decentraland
Sign up to our platform to get started