How to Buy Enjin Coin (ENJ)
Make your investments work for you: Buy and sell Enjin Coin and 40+ cryptocurrencies instantly.
Just 3 easy steps to start investing in Enjin Coin
Create your account
on Blocktrade

Sign up on the website, and verify your account with complete information.
Select a payment
method

Select whether you want to purchase ENJ with PayPal, Google Pay, etc.
Start buying
Enjin Coin

Choose ENJ, select how much you want to buy, and make your first investment.
Learn more about Enjin Coin
What is Enjin Coin ?
The abbreviation symbol of a digital currency is the symbol by which the cryptocurrency is traded in the digital currency market. The abbreviation of Enjin Coin is ENJ, you can easily search this coin by typing this symbol in the cryptocurrency search bar on any exchange.
Read more about this coin on Enjin official website.
What is ENJ ?
Enjin is a great platform for building Metaverse projects, that's why, considering the focus of big companies on this concept and their interest in trying to build 3D virtual worlds, Enjin Coin is now more than ever in the center of developers' attention. Investors have bought ENJ digital currency in the hope of increasing the number of projects created on this platform. Maxim Blogov, co-founder of Enjin (ENJ), said the company is mainly focused on adoption. He envisions a future where millions of gamers use digital items powered by Enjin Coin without even knowing it. This is a great strategy; Because gamers like to play and worry less about technical issues such as fluctuations of coins' prices.
ENJ coin entered the cryptocurrency world on November 1, 2017 at a price of $0.02431. The price of the coin made a significant advance shortly after its launch. By the end of 2017, ENJ had risen over 600% to a closing price of $0.1727, and early investors were rewarded with huge profits. On January 7, 2018, the price of Enjin rose to a high of $0.4934, an increase of more than 180% from its previous high. These price changes caused it to attract a lot of attention and led to its listing on major cryptocurrency markets. By the end of 2020, Enjin Coin traded in the range of $0.138 to $0.1666, indicating that Enjin Coin is moderately volatile. 2021 was the year of cryptocurrency, with mainstream currencies and alts hitting the bullseye. ENJ recorded massive gains in 2021, reaching an all-time high of $4.85 in November 2021 during the crypto boom. Although the current crypto market is experiencing fluctuations, experts predict an average of about $5 for Enjin Coin prices in 2030. Regardless, investors are advised to conduct their own research by reading the most recent news that provides information on investments of ENJ coins before purchasing Enjin Coin.
Is Enjin Coin reliable
Enjin allows developers to create and manage virtual goods on the Ethereum (ETH) blockchain. As you may know, every transaction on the Ethereum blockchain is verified and secured by the huge amount of computing power provided by all the computers connected to the network, making it virtually impossible for any third party to interfere. On top of that, the main goal of the Enjin project is to manage in-game items and features with the help of blockchain and therefore, reduce fraud and high costs using Enjin Coin. To achieve this, Enjin has released software development kits (SDKs) that allow users to both create digital assets on Ethereum blockchain and use them in games and applications. The assets created are registered in the smart contract of the network, which ensures increase in speed and the security of the Enjin network.
After you've bought ENJ
Generating blockchain assets with ENJ token has various benefits for creators and users, including: injecting a store of value into assets, ensuring transparency and scarcity, providing instant liquidity, application in games and apps, and anti-inflation. Enjin Coin allows users to manage and store virtual gaming products such as character accessories or in-game currencies. Users can also earn ENJ tokens by selling their NFTs. Enjin Coin is used as a currency to buy, sell and trade non-equivalent tokens. This currency is also used to create, manage and destroy in-game items. Developers can issue custom tokens, unique items, or reward tokens powered by Enjin Coin.
Your entry to the world of crypto
Other Methods of buying Enjin Coin
Where can I buy Enjin Coin
ATM
If there is any crypto ATM near you, it is possible to buy some coins with these machines and you should check to see whether it sells Enjin Coin or not. However, the process is not as simple as it seems. Furthermore, the ATM rates are somehow more than other methods.
Direct Purchase
You can buy Enjin Coin directly from another person over the web.
Exchanges
Crypto Exchanges are the safest places for buying Enjin Coin. You can use Blocktrade as a cheap, secure, and global exchange to buy ENJ. You don't need to pay any trading fee while using Blocktrade exchange. Sign up for free, create an account, and purchase ENJ with a few clicks.
Blocktrade is available in 100+ countries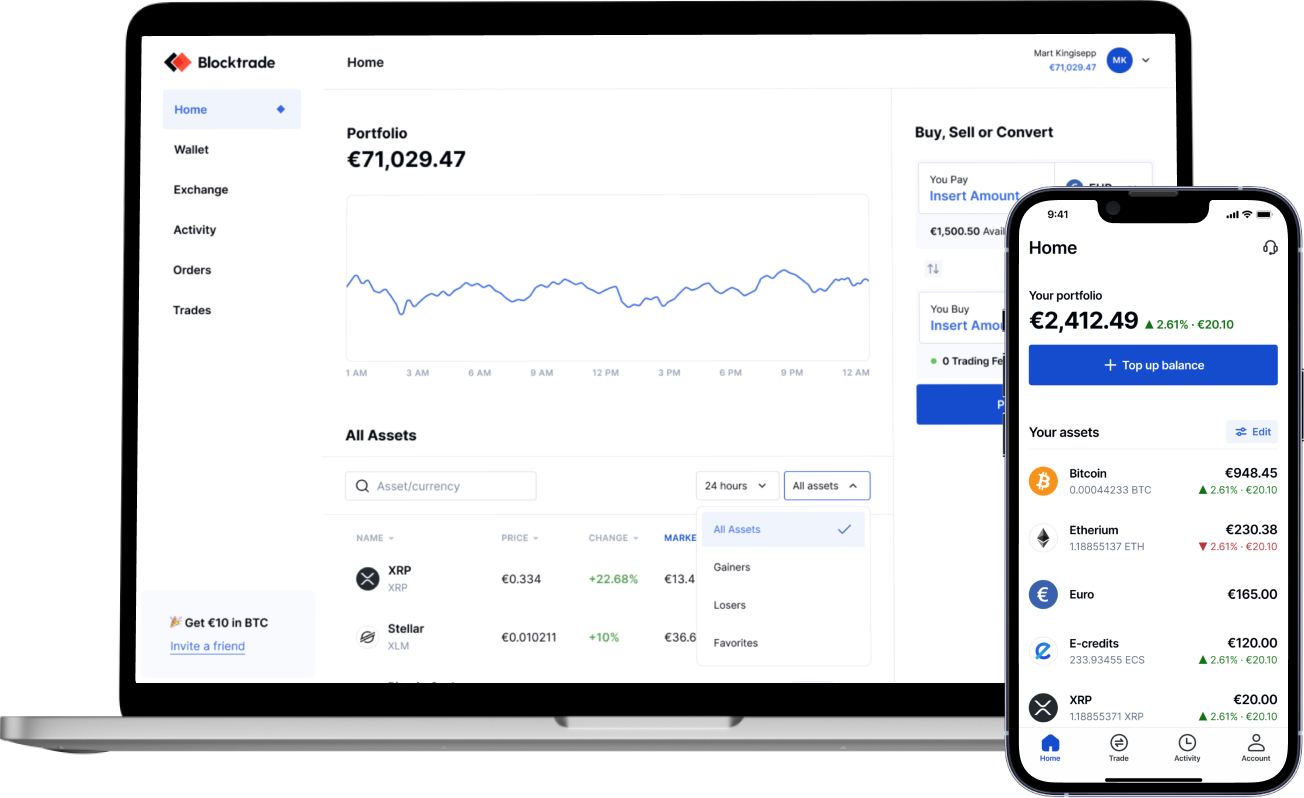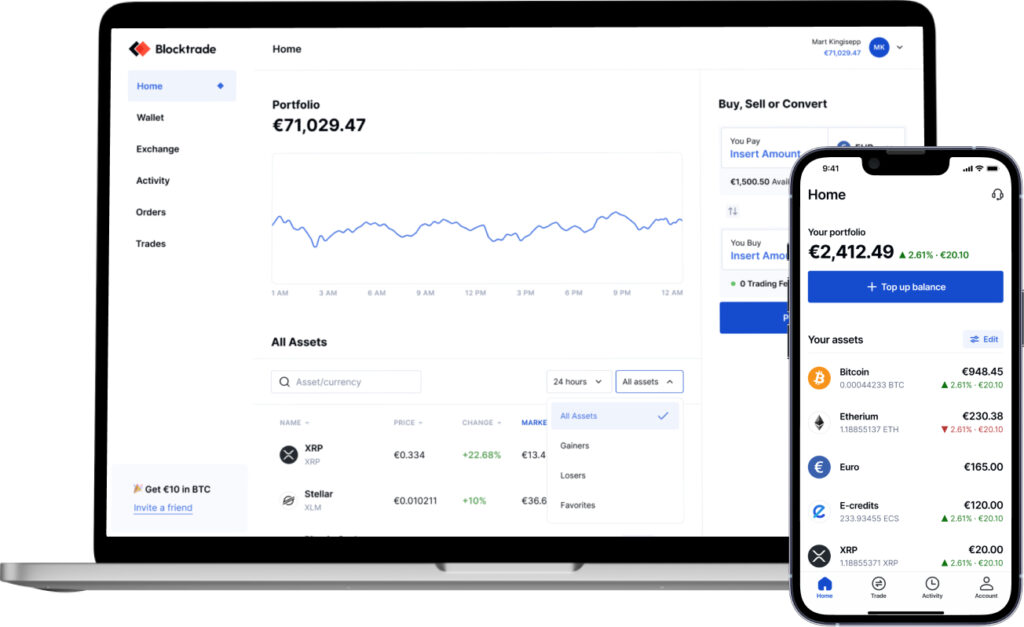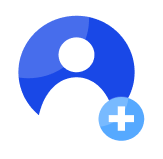 Sign up and verify your Blocktrade account
You'll need a username, email address and a strong password to sign up on Blocktrade. Then, you'll be guided to verify your account.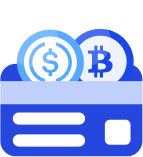 Deposit ENJ to your Blocktrade account
To sell Enjin Coin on Blocktrade, generate a deposit address and transfer the desired amount - just as simple as sending it to any Enjin Coin address.
Start selling Enjin Coin!
Once you deposited your Enjin Coin in your Blocktrade deposit address, you'll be able to sell your ENJ.
Frequently asked questions
Start earning from your investments in Enjin Coin
Sign up to our platform to get started