What Is Polygon?
Launched in 2017, Polygon is the name of a decentralized blockchain platform created to perform faster and cheaper than its previous blockchains. However, this platform was introduced under the name MATIC, but in 2021 it was rebranded to Polygon, but its native coin is still known as MATIC. First, let's take a look at this blockchain and figure out how it could perform better than its previous blockchains.
Generally, Polygon is an Ethereum-based platform. It means this platform uses the Ethereum blockchain technology to create and run decentralized applications. However, Polygon was created to fulfill the weaknesses that Ethereum had, which was being slow. Based on this defect, Polygon uses Layer 2 solutions, such as sidechains and rollups, that run parallel to the Ethereum main chain and periodically commit their state to it, achieving faster and cheaper transactions without sacrificing security. Therefore, Polygon can perform faster than Ethereum. 
However, what you invest in is the token on this blockchain. So, we briefly review MATIC too. 
Matic is an ERC-20 token that runs on the Ethereum blockchain. Like most tokens, Matic can be used as an investment, or to pay transaction fees, secure the blockchain by staking, and vote on different projects on the Polygon blockchain, collect or create NFTs.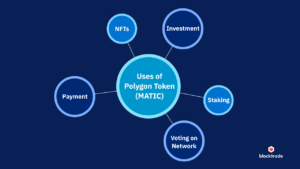 You can buy Matic on the BlockTrade exchange with zero trading fees. Therefore, check out the buy Matic with debit card and buy Matic with Apple Pay to discover the best way to buy this token.  
What Is Ethereum?
Launched in 2015, Ethereum is a decentralized blockchain network, which means instead of being maintained in a centralized location, it is maintained by individuals around the world. Additionally, Ethereum allows its users to build their own applications on its platform using smart contracts. Being decentralized made Ethereum a faster blockchain network than Bitcoin. However, it is still not as fast and scalable as the newer blockchains including Polygon.
However, the team behind the Ethereum network made an upgrade to this network in June 2022 to make this blockchain more secure and environmentally friendly. Now ETH 2.0 uses Proof-of-Stake (PoS) consensus instead of Proof-of-Work (PoW), which makes the network slower and more energy-consuming.
Although the exact speed of Ethereum 2.0 is not fixed yet, it is considered that its transaction speed will be over 100,000 transactions per second after all phases of the upgrade are finished. So, the problem of scalability and speed will be solved.
The native token on this blockchain is called Ether (ETH), which can be used as an investment, paying transaction fees, payment method, staking, creating or buying NFTs.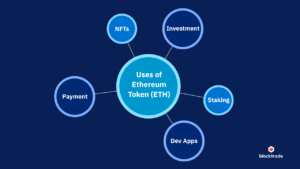 You can buy Ethereum on BlockTrade with zero trading fee. Check out the buy Ethereum with credit card, buy Ethereum with debit card, buy Ethereum with Apple Pay, buy Etherem with Google Pay, buy Ethereum with Paypal, and buy Ethereum with bank transfer to discover the best method to buy this token. 
Similarities Between Polygon and Ethereum 
Since Polygon uses the same technology as Ethereum, they have many similarities. Here we name a few of them: 
Compatibility

. The developers on Polygon can use the same language and code they use on Ethereum to build decentralized apps. Furthermore, they can easily migrate from Ethereum to Polygon or vice versa because they both support the Ethereum tokens and smart contracts.  

Decentralization. 

Polygon and Ethereum are both decentralized blockchains. Developers can build dApps on both blockchains effortlessly. Although Polygon is faster and more scalable than Ethereum now, the next generation of Ethereum (ETH 2.0) can compete with Polygon in case of speed and scalability. 

Innovation.

 Both platforms support NFTs and decentralized finance (DeFi). They are also used by communities of developers, users, and investors who support their growth and development.

Differences Between Polygon and Ethereum 
Some of the differences between Polygon and Ethereum are: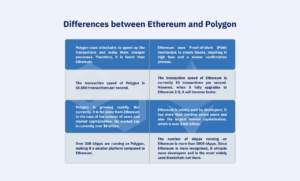 As you can see, both cryptocurrencies have their benefits and disadvantages. Now, it's time to discover the factors you should consider to decide on these two crypto.
Which One Is a Better Investment? Ethereum or Polygon? 
Different factors can show if crypto is worth buying. However, if you don't want to use the coins and only want to invest in them, you can only focus on the factors that affect their price.
However, you should know that the cryptocurrency world is so volatile. No one can guarantee that a crypto will %100 be profitable. But at the time you want to buy a token, considering the following factors can help you find the better crypto:
Technical Analysis: 

The history of a coin can help you figure out how profitable it was in the past. Therefore, checking out the historical price data, fluctuations, the times that the price had dropped, and whatever affected the price of a coin should be considered. This analysis can help experts predict the future price of a cryptocurrency.

Fundamental Analysis:

 what's happening now to this cryptocurrency can affect its future. Therefore, any news about a token, any changes in the company, such as the management resignation or the value of the stock can define the accuracy of the current price of a token.  

Price Predictions:

 with the help of two other factors, crypto experts predict the future of a coin. However, these are only predictions and might not become true. But it can give buyers an idea about how the future might be.
Polygon vs Ethereum: Price History 
Although you can't buy tokens based on their previous prices, this price history can give an idea about the popularity and future of a cryptocurrency. Therefore, it will be great if you check out the price history of coins before deciding on buying them. 
Polygon Price History 
The native token of Polygon, MATIC, was released in 2017 for $0.013. Its price was almost stable until 2021 when it suddenly reached $2.21. The fluctuations of this token started this year. One day it went up, and the other day it experienced stagnation. The highest price recorded for this token is $2.83 on 27 December 2021. After that, it started to decrease until it reached as low as $0.40 in June 2022. Although MATIC faced ups and downs many times, it couldn't reach higher than $1.5 by 2023. The latest price recorded for this token is $0.75 by June 2023.
Ethereum Price History 
Released in 2015, Ether (ETH) was sold at an initial price of $0.31 per coin. Although it didn't have any huge swings this year, it started 2016 with a great rise and mounted as high as $14 per coin. Next year was even better for Ethereum holders because, in 2017, the ETH price rose as high as $400. That was a huge surprise for people who had bought this coin the previous year. But it didn't end there.
In 2018, Ether reached its peak of $1,158, which was again a wonderful profit for people who had recently bought this token. However, like most cryptocurrencies, Ethereum didn't have a great year in 2019 and 2020, and its average price was around $200.
Everything changed in 2021, and Ethereum set the record of its highest price at $4,733 per coin in November 2021. Although it couldn't reach this amount anymore, its price didn't get lower than $1,100 by 2022. The latest price recorded for this coin is $1,959 in June 2023. Everything changed in 2021, and Ethereum set the record of its highest price at $4,733 per coin in November 2021. Although it couldn't reach this amount anymore, its price didn't get lower than $1,100 by 2022. The latest price recorded for this coin is $1,959 in June 2023.
Polygon vs Ethereum: Price Predictions 
Based on the history of each crypto, its current situation, and other analysis, the crypto experts give predictions about the price of each coin. However, it should be noted that these are only predictions and might not be correct. Don't invest in a cryptocurrency only upon these predictions. You should always be aware of the volatility of the cryptocurrency world.
Polygon Price Predictions 
Analysts of 

CryptoNews

 expect the price of MATIC to reach $2 by 2025 and it could reach as high as $3.5 by 2030.

Based on the analysis the 

Coinpedia

's experts have done, the price of MATIC might possibly be around $3 by 2025 and could reach $17 by 2030.

CoinCodex

 has forecasted the price of Matic to be around $1.24 by 2025 and might possibly reach as high as $3.61 by 2030.
Ethereum Price Predictions 
According to 

CryptoNews

, the price of Ethereum might be between $4,559 to $6,564 per coin by 2025. The experts of this site also believe that the price might be as high as $20,643 by 2030.

CoinCodex

 expects the price of Ethereum to reach as high as $7,426 by 2025, and it could reach $9,000 by 2030.

According to 

Coinpedia

, Ethereum could reach the average price of $4,421 by 2025, and its price might be around $23,000 by 2030.
What Else You Need to Know?
As a beginner, it is better to start with the minimum investment to avoid losing too much money.

It is recommended to have an exit point for your investment.

Before buying a coin, check out its price according to a different basis, such as monthly, weekly, and daily. It can give ideas about the stability and fluctuations of each coin.

Read the news, analysis, predictions, and experts' comments about each coin.
Bottom Line 
Ethereum is the older brother of Polygon, and these cryptocurrencies have many similarities. However, when it comes to investing in a cryptocurrency, you need to check several factors to discover if this token is worth buying. Therefore, knowing all the aspects of each coin can help with deciding. In this article, we compared Ethereum and Polygon. But ultimately, the future of cryptocurrencies is unclear, so it's up to you to decide which one to buy. No one can guarantee that an investment will be %100 profitable. Therefore, it is better to fully examine each coin and decide based on your preferences.
FAQs
Is Polygon better than Ethereum?
It depends on what you want to do with the cryptocurrency you choose. For example, both cryptocurrencies can be used as payment, but more merchants accept ETH coins. On the other side, Polygon is faster than Ethereum, making it a suitable choice for developers.
Which one is more secure: Ethereum or Polygon?
Ethereum uses the PoW consensus mechanism, and Polygon uses the PoS consensus mechanism. Generally, the PoS is considered more secure than PoW because it reduces the risk of %51 attacks. However, after the upgrade, Ethereum 2.0 will use the PoS mechanism and become more secure than it is now.