Your Blocktrade experience just got a serious upgrade. Introducing Blocktrade 2.0, the new interface loaded with features that make buying, selling and trading crypto easier than ever before. Blocktrade 2.0 comes with ZERO trading fees, more assets, new payment methods and live chat support. 
Let's take a closer look at each new feature. 
New Interface, better experience
We took users' feedback and crafted a streamlined, easier-to-use interface for mobile and web. It's now easier to navigate the app and invest in your favorite assets.  
The new widget makes it easier for you to buy, sell or convert assets with just a few taps.  
This change, among the other new features, makes crypto trading easier for all kinds of customers, from seasoned investors to those brand-new to the crypto world.  
You read that right. ZERO 
Blocktrade is becoming one of the very few platforms in the cryptoverse to offer zero trading fees on its new user interface.* 
This is a new unique selling point for Blocktrade and a big advantage compare to big and small competitors.  
That means your funds go towards investing, not expensive fees. The competition doesn't offer that kind of savings – Blocktrade does.  
* Does not apply to exclusive assets such as eCredits. 
New Assets Added, More Coming
Blocktrade customers said they wanted access to more cryptocurrencies.  
Therefore, throughout 2022 we're adding dozens of new assets to Blocktrade, from popular tokens to lesser-known cryptos. 
Blocktrade 2.0 will bring you the greatest variety of cryptocurrencies to invest in. So far we've added ADA, LINK, SOL, UNI, AAVE, MKR, 1INCH, and USDT, in addition to previous tokens. 
Blocktrade 2.0 gives you even more ways to invest. Now you can invest with your credit/ debit card, as well as SEPA bank transfer. And coming soon: we'll also be adding Apple Pay and Google Pay to your list of options, allowing you to buy crypto easier and faster than ever before. Watch for it!  
We're here for you. We want to support Blocktrade customers in the fastest, most efficient way possible.  
Now if you have questions or need assistance, instead of writing a ticket like before, you can chat with one of our support agents, who are standing by to help you.  
The live chat is available from 08:00 to 20:00 on Mon–Fri and from 08:00 to 16:30 on Sat (CET).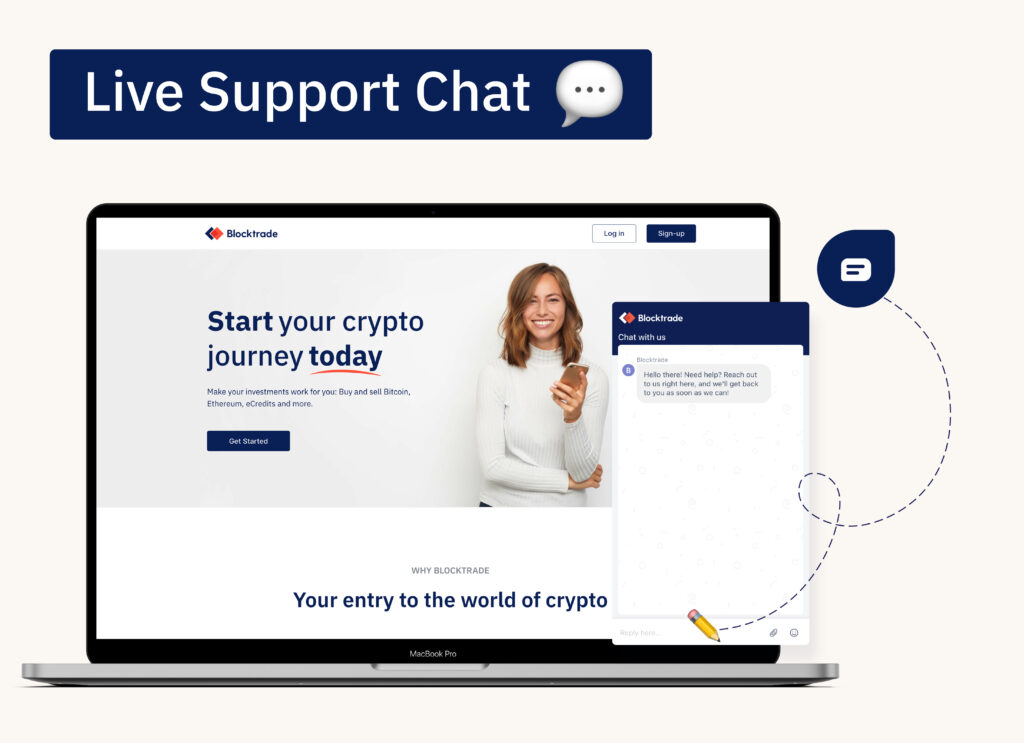 This upgrade – basically overhauling our core structure – was a lot of work and very challenging to pull off. Our team worked around the clock to make it happen. But we knew why we did it: to give you the best crypto trading experience possible.   
To celebrate the rollout of Blocktrade 2.0 we'll be launching a giveaway in the days ahead, with big prizes for five lucky winners. Stay tuned!  
In the meantime, you can try and enjoy all these features on our trading platform and the updated version of mobile apps now.