Your wishes were heard! Blocktrade 2.1 is here, and our team has expanded the list of available assets. There are 12 new tokens that are related to our future – because tokens in this list are related to NFT, Web3 and the Metaverse that will be our new reality soon. 
Let's learn more about new tokens. 
NFT
NFTs or Non-fungible tokens are unique and can't be replaced with something else. For example, Litecoin is fungible, as you can trade one for another Litecoin, and you will have the same thing. Current financial systems consist of complex loan and trading systems for various asset types, starting from real estate to lending contracts and artwork. By enabling digital representations of physical assets, NFTs are making a step toward the development of this infrastructure. Thus, the relatively simple idea of cryptocurrencies evolved, and non-fungible tokens appeared. 
The NFT group:  
Axie Infinity (AXS). Axie Infinity is a blockchain-based battling and trading game, where players partially own and operate it. The game has unique creatures – Axies and each of them has six out of hundreds of different body parts. Players can collect, grow, breed, battle, and trade Axies but to start the game, a player needs to have three Axies. 
Chiliz (CHZ). Chiliz is the leading digital currency for sports and entertainment that operates on the Socios platform. The CHZ token acts as the platform's internal currency and is used to purchase Fan Tokens. Numerous Fan Tokens provide a way of connecting sports fans and unlocking new revenue streams. Having Fan Tokens gives people a chance to vote on the Socios platform and make decisions starting from new jersey designs to deciding team matchups in exhibition games. 
GALA (GALA). Gala Games aims to give players control over their games, and the mission is to offer blockchain games people will want to play. Players will get control of games and in-game assets with the help of blockchain technology, so creative thinking will be reintroduced into games. Gala Games offers an entire collection of diverse blockchain games that put fun first and blockchain goes in the background. Town Star is the only playable game for now, where players manage a town. 
RARI (Rarible). Rarible is the NFT marketplace and distribution platform that uses the RARI token to assign users who actively interact with the protocol. The platform is used to produce NFTs with a remarkably simple process that makes it available to people with little to no experience with NFTs. 
Metaverse
The metaverse is a conceptual space that exists online in a 3D universe that has various virtual spaces. In this new universe, people use avatars to express and present themselves, communicate with each other, meet, work and play. Digital currency is used in the metaverse to buy clothes, houses, games, etc. It's also possible for users to virtually travel through the metaverse to have fun using just controllers and a virtual reality headset.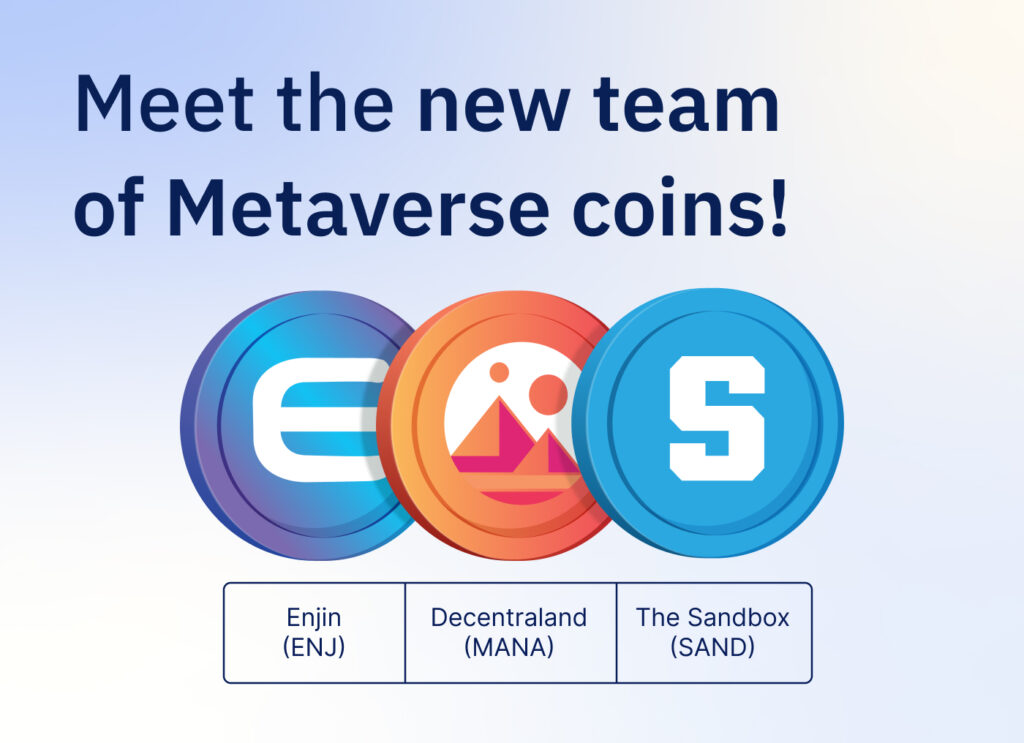 The Metaverse group:  
Enjin (ENJ). Enjin is a platform that allows game developers to produce in-game items using the Ethereum blockchain. There is also Enjin Network – a social gaming platform that gives users an opportunity to create websites and clans, host virtual item stores and chat. Enjin Coin is used in diverse processes including selling, purchasing or trading NFTs using various products provided by Enjin. 
Decentraland (MANA). Decentraland is defined as a virtual reality platform that is powered by the Ethereum blockchain. Mana allows users to experience, create and monetize content as well as applications. Decentraland was created for businesses, content creators and individuals that are looking for a new business opportunity, artistic environment, or entertainment. 
The Sandbox (SAND). The Sandbox is a blockchain-based virtual world that lets users, in the form of a game to build, buy and sell digital assets. The Sandbox presents blockchain technology to the world of gaming and that makes it unique. By building a universe where gamers can produce and collect blockchain-based assets, The Sandbox aims to change the market. 
Web3
Web3 is the future of the Internet. Web3 is decentralized and instead of big swathes of the internet being managed and owned by centralized entities, the ownership will be distributed among its users and builders. Everyone will have equal access to participate in Web3 and cryptocurrency will be used for spending and sending money online instead of relying on outdated payment processors and banks. Web3 will operate by using economic mechanisms and incentives rather than relying on authorized third parties.  
The Web3 group:  
Audius (AUDIO). Audius is a decentralized music streaming protocol that was founded to fix the inefficiencies in the music industry which is afflicted by intransparent ownership of music rights and intermediaries, who stand between artists and their audiences. The ecosystem of Audius consists of four primary participants: artists, fans, discovery nodes and content nodes. 
HBAR (Hedera). Hedera is the most enterprise-grade, sustainable and used public network for the decentralized economy that allows people and businesses to create powerful decentralized applications. Compared to other cryptocurrency platforms, Hedera Hashgraph isn't built on top of a traditional blockchain, as it introduces an entirely novel type of distributed ledger technology known as a Hashgraph. 
Livepeer (LPT). Livepeer is the first decentralized live video streaming network protocol. This is a unique project as it strives to revolutionize the broadcasting industry by using blockchain technology capabilities. Livepeer also allows users and developers to participate in the management and improvement of the platform. 
HOLO (HOT). Holo is a peer-to-peer allocated platform for hosting decentralized applications. Holo aims to act as a bridge between apps that are created by using Holochainthe and the broader internet by offering the marketplace and ecosystem in which DApps are easily available. Holo is also aimed to connect Holochain, which represents the world of crypto technology and everyday users. 
STORJ (Storj). Storj is an open-source cloud storage platform that uses a decentralized network of nodes to host user data. Advanced encryption is used in the platform to secure hosted data while Storj operates on a network of thousands of independent computers. It's possible for anyone who has a few extra terabytes of space to become a node on the platform by installing Tardigrade and the only requirement is a strong consistent internet connection. Storj is efficient because hosts pay far less for the storage of data compared to when they use traditional cloud storage services. 
€ 5,000 Giveaway
To celebrate the launch of new tokens, we are giving away € 5,000 to one lucky person! You just need to buy € 50 worth of any cryptocurrency to take part in the giveaway. Each €50 gives you one chance – buying €100 worth of crypto gives you two chances, buying €500 means ten chances to win in a giveaway.  
The giveaway starts on the 24th of November at 08:00 and finishes on December 8th at 23:59 (CET), 2022.  
All purchases that are made during this time will be counted automatically. 
 Click here to learn more: http://giveaway.blocktrade.com/. 
Final Thoughts
These three new groups of tokens were added for our users to open more opportunities, not only in the crypto world but in such spheres as music, video, and gaming. We would like to thank our users for sharing their feedback and wishes with us, as Blocktrade grows and develops to make your experience even better!