Recurring Investment Plan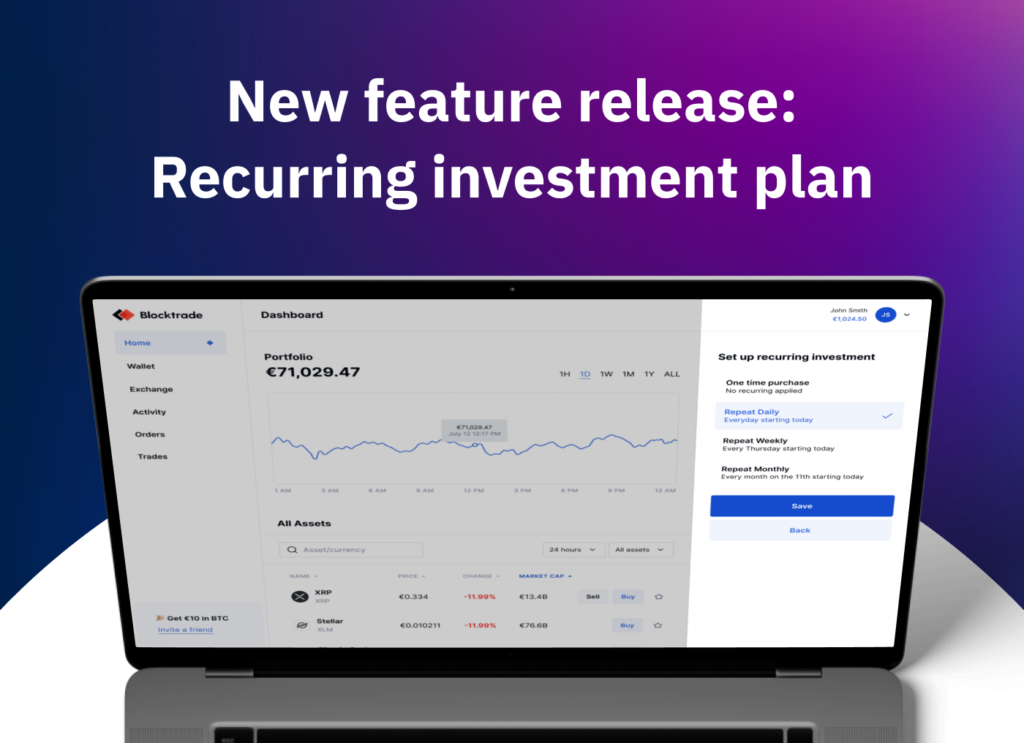 For investors, this market condition may raise questions about whether they should continue to invest in these markets. The answer is yes! A bear market can be a great opportunity for investors to explore various investment strategies that can generate long-term value. 
One of the most popular strategies that can be particularly beneficial during a bear market is "dollar-cost averaging" (DCA). The idea behind DCA is to consistently invest a fixed amount of money in an asset, regardless of market conditions. DCA is very simple and accessible for investors of all levels, as well as suitable for any budget size. It can help investors to remove the emotion of investing and help avoid the pitfalls of buying assets at high prices and selling them at low prices. 
If you're interested in trying out the dollar-cost averaging strategy, there are three steps you'll need to take. First, determine how much money you're willing to invest. Second, decide how often you'll be investing. And finally, consider what assets you'll be investing in. 
Here's an example of using the DCA strategy to buy €100 worth of an example token (ABC) every month, we simplified the number for a better understanding of the concept.  
Date

 

 
Invested 

Example token (ABC) price

 

Amount of ABC token you bought

 

Nov 1, 2022

 

€3

00

 

€

300

 

1.00

 

Oct 1, 2022

 

€3

00

 

€

360

 

0.83

 

Nov 1, 2022

 

€3

00

 

€

200

 

1.50

 

Dec 1, 2022

 

€3

00

 

€

280

 

1.07

 

Jan 1, 2023

 

€3

00

 

€

220

 

1.36

 

Feb 1, 2023

 

€3

00

 

€

380

 

0.79

 

Total

 

€1,8

00

 

Average price:

€

290

 

 

6.56

 
 Now, let's calculate together 
 Let's say you wanted to invest €1,800 in Example token (ABC) over 6 months, but instead of investing all at once, you decide to invest €300 each month, no matter the price of the token. 
During the 6 months, the price of ABC token fluctuated between €200 and €380. By using dollar cost averaging, you were able to buy more tokens when the price was lower and fewer tokens when the price was higher, which helped to even out your overall cost per token. In this case, your average cost per token was €290. 
With the dollar cost averaging strategy, you ended up owning 6.56 ABC tokens, which is 0.56 more than if you had invested your full budget of €1,800 in October when the price was €300. This additional gain is because you were able to buy more tokens when the price was lower. 
Assuming the current price of ABC token in February is €380, now let's compare two options in profit  
Buy in October : (6 * €380) – (€1,800) = €480 in profit  
DCA strategy : (6.56 * €380) – (€1,800) = €689 in profit 
Using the dollar cost averaging strategy, you gained an additional €212 in profit compared to if you had invested all your money at once in October.  
Google Pay and Apple Pay



One more great update is that new payment options were recently added, so now Blocktrade has Google Pay and Apple Pay! This is a major achievement for our team, and we are thrilled to offer these convenient and secure payment methods for our customers to make the deposit and investment processes easier. 
These payment options not only provide an easy and seamless experience for our users but also offer added security through their advanced fraud protection systems. With Google Pay and Apple Pay, our users can be sure that their financial information is safe and secure while using our platform. 
The addition of Google Pay and Apple Pay is a big step forward for our platform, and we are excited to see how it will benefit our users. Thank you for choosing Blocktrade, and we hope that these new payment options will enhance your experience with us.