Undeniably, Bitcoin is the most popular cryptocurrency on the market and has been an excellent investment for many people. As you can turn your cash into Bitcoin, you can do the reverse. Are you looking for an easy way to convert your Bitcoin into cash? It can be done quickly and easily with just a few steps. Here's what you need to know about turning your digital currency investments into cold, hard cash in no time.
Factors to Consider When Cashing Out Bitcoin
Before getting into the guide to cashing out Bitcoin, you should consider some factors to have a more secure and effortless conversion.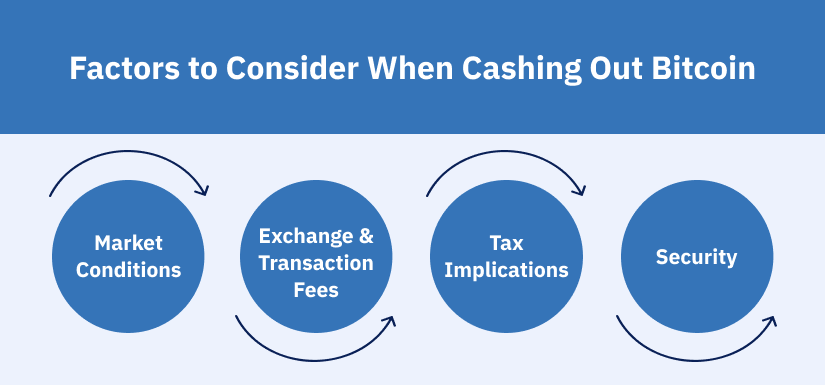 1-Market Conditions
If you want to turn Bitcoin into cash, you need to check out its condition on the market to identify the right time to sell. Like any cryptocurrency, Bitcoin prices are highly volatile and can fluctuate widely quickly.
2-Exchange and Transaction Fees
Cashing out Bitcoin or any other cryptocurrency requires using a crypto exchange, which might have transaction fees. Most exchanges charge a flat fee or a percentage fee for transactions done on their platforms. Therefore, before cashing out, it's vital to compare different exchanges and choose the most affordable option.
Note: You can easily buy Bitcoin or turn it into cash using BlockTrade with no transaction fees.
3-Tax Implications
Although you may think your digital currency is exempt from tax, it depends on your country of living. Since Bitcoin is treated as property in most countries, the profits made from its sale might be taxable. Therefore, you must know your tax obligations before cashing out your investment. Depending on your location, tax laws may differ. It's essential to seek advice from a tax professional to avoid fines and penalties.
If you live in Europe, check out the crypto regulations framework in European countries to learn more about crypto rules.
4. Security
Lastly, security is a crucial factor to consider when cashing out bitcoin. Scammers may use various ways to steal your bitcoin holdings. Ensure that you're well informed about the security measures in place when selling your bitcoins. Choose a reputable platform, use unique passwords, and enable two-factor authentication. It's better to be safe than sorry when it comes to protecting your investments.
7 Ways to Turn Bitcoin into Cash
Now, get ready to turn your Bitcoin into cash. At the first step, let's where you can cash out Bitcoin: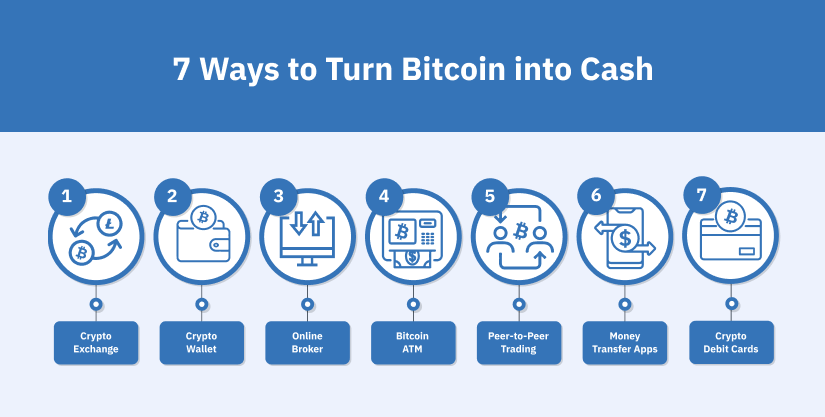 1-Crypto Exchange
The most common way to turn Bitcoin or any other cryptocurrency into cash is using a secure Exchange. It's a fairly straightforward process that only requires a few clicks. Depending on the exchange you use, you may be charged a fee. However, you can convert your Bitcoin into cash on BlockTrade without any trading fee.
2- Crypto Wallet
You can choose different types of wallets to keep your Bitcoins safe. Some might have a built-in exchange, allowing you to change your Bitcoin into cash. For example, Ledger and Trezor are hardware wallets that have these features. However, you should still decide between investing or trading Bitcoin because, for each purpose, you need to choose a different wallet.
Additionally, cashing out Bitcoin using wallets also comes with hidden fees. Using this method, you may have to pay up to a %5 charge fee to convert your Bitcoin into cash.
3- Online Broker
Some online brokers allow you to convert Bitcoin into cash. However, you should buy Bitcoin from these brokers to be able to cash it out. So, if you have purchased Bitcoin on an exchange or stored it in a wallet, you can't transfer it to online brokers and turn your coins into cash. Although cashing out Bitcoin is possible on exchanges and wallets, online brokers are more cost-effective because they charge you less than the other methods, maybe something around a %1 trading fee.
4- Bitcoin ATM
With hundreds of Bitcoin ATMs worldwide, turning Bitcoin into cash is much easier, just like withdrawing money from the bank. You only need a mobile wallet to scan the QR code and withdraw Bitcoin from the ATM. Furthermore, you can use different search tools to find the nearest Bitcoin ATM around you.
You should note that cashing out Bitcoin using an ATM requires identity verification. So, you must have a legal ID, like your passport or driver's license. Furthermore, using Bitcoin ATMs also comes with charges much higher than other methods. It may exceed 15% per transaction.
5- Peer-to-Peer Trading
Generally, Bitcoin was designed as a peer-to-peer trading system. This means Bitcoin buyers and sellers can use a P2P crypto exchange to connect and perform a trade. In this process, the seller transfers Bitcoin directly to the buyer's cryptocurrency wallet.
Therefore, you can quickly sell your Bitcoin and receive cash on these platforms. The benefit of this method is that P2P trading comes with lower fees than other methods, including Bitcoin ATMs or e-wallets.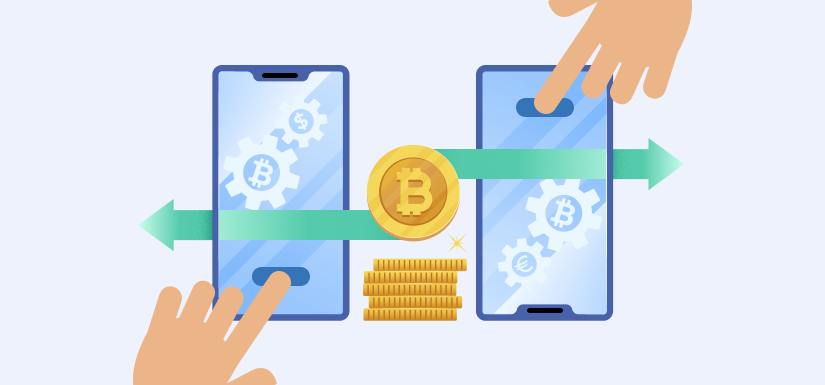 6- Money Transfer Apps
Since Bitcoin is considered a popular and well-known cryptocurrency, some money transfer apps now allow users to transfer Bitcoin or other cryptocurrencies. They usually have a built-in crypto exchange to make it possible for their users to turn Bitcoin into cash or vice versa.
Cash App and PayPal are among the apps that allow this conversion. Like other methods, the crypto conversion using money transfer apps also charges fees. However, it's not as much as other methods.
7- Crypto Debit Cards
Some crypto exchanges offer crypto debit cards to make it much easier for crypto owners to spend their digital asset or convert it to cash. In this method, you can have a part of your Bitcoins in a debit card and use it to pay for goods or services whenever you want. However, the market or shop should accept Bitcoin as a payment method.
Furthermore, crypto debit cards are connected with Bitcoin ATMs. Therefore, the crypto holders can use their debit cards at the ATM to turn Bitcoin into cash. Although this method seems so convenient and quick, it comes with high fees.
Tips About Turning Bitcoin into Cash
Choose a method that suits your needs and preferences. For example, a Bitcoin ATM might be the perfect solution if you want the quickest method. On the other hand, if trading fees are important to you, using an exchange to convert Bitcoin into cash can be a better option.
Don't forget the tax implications and regulations.
Keep your Bitcoin secure until you are ready to cash out. Furthermore, you may not need to cash out all your Bitcoins, so always choose a secure and safe wallet to keep your Bitcoins away from hacking or theft.
Bottom Line
As can be seen, there are different methods to turn Bitcoin into cash; each has pros and cons. However, since Bitcoin is a valuable asset, it is essential to ensure you are using the most secure method to cash it out. Furthermore, all these methods come with some charges. However, if you are looking for a more cost-effective method, you can use exchanges like BlockTrade, which has zero trading fees.
FAQs
Are there any risks in cashing out Bitcoin?
Generally, if you choose a secure exchange or wallet, you may not face any risks while cashing out Bitcoin. However, since Bitcoin is a highly volatile asset, you may miss out on greater profits if you sell it at the wrong time.
What is the best way to turn Bitcoin into cash?
There are different methods for cashing out Bitcoin; each with pros and cons. The main thing that should be considered is each method's amount of trading fee. If you seek the most affordable way to turn Bitcoin into cash, an exchange or e-wallet might be a better option. Furthermore, the best method depends on your preferences.
Can I cash out bitcoin to my bank account?
Since you link your bank account to the crypto exchange you use, it is also possible to transfer it directly to your bank account. However, you should ensure that the exchange has an option to sell crypto and receive cash into your bank account.
Can I withdraw Bitcoin to my debit card?
Yes, if you want to use Bitcoin as a payment, some exchanges may offer you crypto debit cards, which you can use to purchase different things at the stores. Furthermore, you can link your debit card to your crypto exchange. Therefore, as you can buy Bitcoin with debit cards, you can sell that similarly.
Do you have to pay to withdraw Bitcoin?
Depending on the method you choose to turn Bitcoin into cash, you may need to pay different fees, known as withdrawal fee.