Bitcoin and Ethereum are two prominent names in the world of digital currencies. They are both the oldest cryptocurrencies introduced to the market. But, after all these years, are they still a good investment? In this article, we've compared Ethereum vs. Bitcoin to find out which is a good investment. So, let's see the competition between these two valuable cryptocurrencies.
What Is Ethereum?
One of the most recognized names in the cryptocurrency world is Ethereum. Known as the second generation of cryptocurrencies, Ethereum was launched in 2015 to allow its users to create and run decentralized applications and smart contracts. Consequently, the Ethereum blockchain has more functionalities compared to Bitcoin. Developers and users can run smart contracts on Ethereum to automate transactions more securely and safely.
Ethereum has the experience of using both PoW and PoS consensus mechanisms on its platform. PoW wasn't energy-efficient and fast; instead, in April 2023, the system was upgraded to a new version (Ethereum 2.0) which is now working with the PoS consensus mechanism, which is safer, faster, and more environmentally friendly. Currently, Ethereum is the most popular blockchain platform for developers, with more than 3000 dApps running on it.
Ether is used in four ways:
Keeping as an investment
Buying and selling
Purchasing goods
Paying transaction fees on the Ethereum network
Furthermore, Ethereum is the most prominent blockchain containing NFTs.
What Is Bitcoin?
Undoubtedly, when we talk about cryptocurrency, most people think about the word 'Bitcoin!'
That's typical because Bitcoin is the oldest cryptocurrency. Even some people know this world by its name. In fact, Bitcoin is the first blockchain created to eliminate the need for authorities such as banks or government organizations to transfer money. This blockchain was launched in 2009 and was the first network that allowed users to directly transfer funds between each other without the need for intermediaries, such as banks or governments.
The native token of Bitcoin has the same name and is shown with the symbol of BTC, which is created through the mining process. But, unlike other cryptocurrencies, Bitcoin can be divided into different parts. The miners usually don't mine a bitcoin through one process, and each time a small denomination of this coin is mined; it is called Satoshi and is equal to a hundred millionth of one Bitcoin. This divisibility allows transactions of larger size and value, from a few cents to millions of dollars.
Furthermore, it's the concept of the cryptocurrency world to keep the identity of its users. Therefore, all the users of Bitcoin are anonymous, and all the transactions are done through public keys. However, that's the same process on all cryptocurrency platforms.
Since Bitcoin is popular worldwide, it can be used as an online payment instead of fiat currency on some websites and markets. Other uses of Bitcoin are in gaming, transaction fee, investment, developing apps, and donations. Moreover, Bitcoin can be used to create and collect NFTs. Still, since its protocol differs from other blockchain platforms, Bitcoin doesn't support NFTs like other cryptocurrencies. Instead, NFTs are created and collected using different methods and standards.
Similarities Between Bitcoin and Ethereum
Although they belong to two different generations, they still have some things in common: 
They are both decentralized and are not controlled by the government.
Ethereum and Bitcoin allow peer-to-peer transactions.
Both of them have high demand in the crypto market. 
Differences Between Bitcoin and Ethereum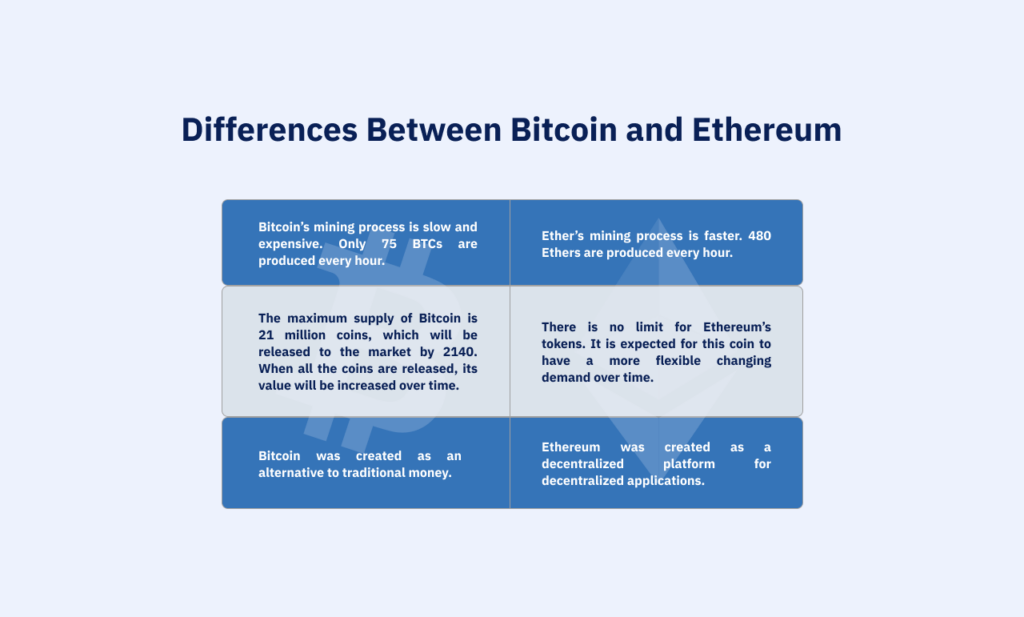 Now that we have checked out the similarities and differences between Ethereum and Bitcoin, it's time to discover which one might be profitable.  
Which One Is a Better Investment? Ethereum or Bitcoin?
Besides all the similarities and differences that Ethereum and Bitcoin have, there are other factors to consider when deciding on buying crypto as an investment. Thus, as an investor, you should check out the following factors too:
Technical Analysis. Before buying cryptocurrency, you should consider its past. It can tell you a lot about the changes and fluctuations its token had. The history of a token can explain what can affect the price of that coin.
Fundamental Analysis. What's happening to the cryptocurrency world right now? The current crypto situation can define if it will perform well in the future. You should consider who are the competitors of each coin. Who has invested in this cryptocurrency? The other aspects to consider are the stock value, investors, and the news around that crypto.
Price Predictions. Although the predictions might not happen, they still can give an attitude about the probable future for each coin. Price predictions are based on different factors. To learn about these predictions, it is better to follow analysts and crypto experts and read their comments about each coin to better understand what to expect in the future. However, you should always note that the crypto world is volatile, and no one can guarantee their future and profitability. Therefore, always invest with an open eye on the market.
Ethereum vs Bitcoin: Price History 
As mentioned, the past is important. However, it doesn't mean you can invest based on the past prices of a coin. On the other hand, you should check out the ups and downs of crypto to discover how profitable it was before and what factors have affected the price.
Ethereum Price History
The initial price of Ether was $0.32 in 2015. Since Ethereum was not the first cryptocurrency on the market, people were more aware of this world. Therefore, it didn't take so long for its price to get higher. It was in March 2016 when Ether's price reached $14. However, Ether never stopped surprising its holders because, in 2017, its price went as high as $400 and very soon got higher and higher until it reached $1,158 per coin. As you can see, the investment in Ether was surprisingly profitable in its first years.
However, like most cryptocurrencies, Ethereum also had bad years, which were 2019 and 2020. In these years, the average price of Ether was $200. However, it could be a good time to buy this token and wait for it to rise again. Let's see, was it a good idea?
In November 2021, Ethereum set a record for its highest price, which was $4,733 per coin. Again, it returned to the game and changed the destiny of its owners. However, it didn't stay at that price and dropped until it got stable around $1,100 by 2022. At the time of writing this article, the Ether price was around $1,683 in July 2023.
Bitcoin Price History
The story of one of the most valuable cryptocurrencies on the market started at $0.0009 per coin in 2009, which was almost nothing! As the first digital asset was introduced to the market, it was obvious that it may take time to find its place in the market where it is not still clear for most people how they can exchange money digitally! That's why it took multiple years for Bitcoin to be accepted as a trusted asset. However, Bitcoin price didn't reach $1 until 2011. It seems that from this year on, people started to trust Bitcoin as a currency, so they started to buy it.
Bitcoin's price had multiple fluctuations in 2011. In February, it finally reached $1. After a few months, it suddenly rose as high as $30, which was a wonderful profit for people who had bought it just a few months ago! In 2012, the first competitor of Bitcoin was launched, called Litecoin (Read is Litecoin a good investment). The emergence of this new coin affected Bitcoin's market. However, the average price of this coin was $13.5 this year.
On the other hand, 2013 was a good year for BTC holders. It was in this year that the first BTC ATM was installed in Vancouver, adding more trust and credibility to this coin because now the BTC holders could buy or sell their coins using an ATM. Accordingly, Bitcoin's price mounted to $40 in March. But a great surprise was on the way because, after one month, Bitcoin's price spiked to $230! Another shock for people who had bought this coin in previous weeks.
However, the ups and downs of this coin were so much in 2013; it dropped to $68 and rose to $1200, and finally ended the year at a price of $805.
What happened next?
Bitcoin has become more and more popular each day. Its average price was $593 in 2015, and around $1000 in 2016. But the next price spike happened in 2017 when Bitcoin started to rise more and more until it reached $19,000 in 2018. After that, Bitcoin didn't surprise the crypto market until 2021, when it rose to $63,000 and dropped to $33,000 again. When writing this article, Bitcoin's price is $29,450 in July 2023.
Bitcoin vs Ethereum: Price Predictions
Now let's see what crypto analysts think about the future of each crypto:
Ethereum Price Predictions
Techopedia predicts the Ethereum price might possibly reach $3,200 in 2025, and it could reach as high as $9800 by 2030.
The prediction of CryptoNews experts for Ethereum price is $3500 by 2025 and $14,300 by 2030.
The experts on AMBCrypto think the Ethereum price might be around $2,500 by 2025, and it could reach $10,000 by 2030.
Bitcoin Price Predictions
According to Techopedia predictions, the average price of Bitcoin might be $25,200 by 2025, and it could reach around $69,000 by 2030.
The experts of AMBCrypto predict Bitcoin's price to be around $31,000 in 2025, and it might possibly reach 128,000 by 2030.
CryptoNews experts also predict a minimum price of $65,000 in 2025, and they think the price of Bitcoin might reach $313,000 by 2030.
Bottom Line
Ethereum and Bitcoin are popular cryptocurrencies with unique features and use cases. While Bitcoin is primarily used as a store of value and payment, Ethereum has a wider range of applications due to its smart contract capabilities. Both cryptocurrencies have experienced significant price fluctuations over the years, but the future remains uncertain. As the world embraces digital currencies, seeing how Ethereum and Bitcoin evolve and compete in the market will be interesting.
If you want to invest in either of these coins, read more about their situation on the market, news about the company, investors, and their prices. Please remember that no one can tell if your investment will be %100 profitable. Therefore, it is recommended to start with minimum money to understand this world better and know when to buy and when to sell.
FAQs
Is Ethereum better than Bitcoin?
Both cryptocurrencies had good days and bad days. However, the process of mining and its uses are different. Therefore, each coin may be better than the other in some features. If you want to buy these cryptocurrencies as an investment, read more about their price predictions and other factors and decide which one is a better investment based on your preferences. 
Should I buy BTC or ETH for the long term?
The investment decision between Ethereum and Bitcoin depends on the investor's risk. Both have the potential to perform well over time; they both can be great investments or may fall. So, do your own research to determine which is good for you.
How much Ethereum should I buy to be a millionaire?
The future of the digital world is not clear; this world is so volatile. So, no one can tell if you can become a millionaire by buying a certain amount of Ethereum. Always invest as much as you afford to lose. Putting all your money into this world will not be a good idea, especially as a beginner.