Uniswap Price Prediction
In this article, we are going to take a look at Uniswap Price Predictions From 2023 To 2030.
If you are not that familiar with Uniswap and how it works, we recommend reading our big article titled "What is Uniswap?".
Before moving on to the UNI coin price predictions, let's briefly introduce what UNI is.
The Uniswap (UNI) cryptocurrency is a governance token for the decentralized and non-custodial exchange with the same name. It means there is no order book or central regulatory body on UNI, unlike a typical exchange, you do not need to register for or validate your account.
long-term Uniswap (UNI) price predictions
We collected long-term Uniswap (UNI) price predictions by top analytical platforms. Let's see what they say:
DigitalCoinPrice In 2025, the site said UNI could have gone on to $11.72 before it could have slipped to $10.95 in 2026 and could have recovered to $13.92 in 2027. By 2028, the forecast argued that the token could be valued at $19.26 before it closed the decade at $24.45. The site then made a Uniswap price prediction for 2030 that it could have risen to $27.64 before it suggested UNI could have gone to $31.63 in 2031.
CaptainAltCoin By September 2023, the token could have been valued at $9.73, while it could have reached $16.38 in 2025 before it could have dropped to $14.89 in early September 2027. By 2030, the suggestion was that UNI could potentially have grown to $40.95 – not far off its all-time high – before it went on to make a Uniswap price prediction for 2040 that it could have hit $81.91.
Meanwhile, CoinsKid was more gloomy in terms of its Uniswap token price prediction, at least in the short term. The site argued that it could have closed 2022 down at $5.41 before falling to $3.74 in September 2023.
Finally, WalletInvestor was also pretty bearish when it came to making a Uniswap price prediction, saying that there was the potential for the token to drop pretty sharply over the course of the coming 12 months, reaching a little below $1.51 by the start of September 2023.
As you can see, the opinions of experts are somewhat different. But in general, there is a fairly well-founded belief in this currency.
Uniswap Price Prediction 2023
Now, let's look at the UNI price predictions for the first quarter of 2023 provided by the popular portal tradingbeasts.com.
UNISWAP PRICE PREDICTION FOR JANUARY 2023
The Uniswap price is forecasted to reach $5.20753 by the beginning of January 2023. The expected maximum price is $6.50941, minimum price $4.42640. The Uniswap price prediction for the end of the month is $5.20753.
UNISWAP PRICE PREDICTION FOR FEBRUARY 2023
The Uniswap price is forecasted to reach $5.24929 by the beginning of February 2023. The expected maximum price is $6.56161, minimum price $4.46190. The Uniswap price prediction for the end of the month is $5.24929.
UNISWAP PRICE PREDICTION FOR MARCH 2023
The Uniswap price is forecasted to reach $5.32920 by the beginning of March 2023. The expected maximum price is $6.66150, minimum price $4.52982. The Uniswap price prediction for the end of the month is $5.32920.
Uniswap Price Prediction 2030
And now, let's jump a little further into the future and see the predictions for the UNI price by 2030.
It must be noted that it's hard to plan ahead and keep up with current prices.
There are too many unpredictable factors. Volatility is what drives the cryptocurrency market. In this regard, many crypto analysts come into play. And they are still worried about the crypto bans and new restrictions. If there is a strong bull run in the market in 2030, the price of Uniswap could go above $168.86. Since it is likely to be held by long-term investors, its average price in 2030 will be around $143.10.
These positive numbers bring some clarity to the question of whether Uniswap is a good investment or not.
What will Uniswap be worth in 2025
Having very long-term forecasts in mind is certainly an effective approach, but let's go back to the near term and see the consensus among experts on the UNI price for 2025.
The cryptocurrency experts have analyzed the prices of Uniswap and their fluctuations during the previous years. It is assumed that in 2025, the minimum UNI price might drop to $21.84782, while its maximum can reach $25.23748. On average, the trading cost will be around $22.45775.
Analysts at technewsleader.com, who summarized different predictions, also came to a very close conclusion to the figures above. According to them, by 2025, the UNI is expected to be worth a maximum value of $25.07. If the market gets bullish, the minimum price can go up to $20.50.
Uniswap Historical Price Data
To understand the future well, it is necessary to look back. Let's see how the price of the UNI token has evolved in the short history of this cryptocurrency.
UNI had a price of $1.10 per coin on its first day, September 17, 2020, and $44.97 on May 3, 2021.
2021 proved to be a remarkable year for the UNI token price as it grew manifold, increasing from a closing price of $5.25 on 11 January to a closing value of $29.14 on 20 February – an increase of 455% in a little more than a month.
The Uniswap token price collapsed and closed at $22.19 on 28 February before rising again to $34.28 on 7 March. The price action remained bullish, and the UNI token price reached its all-time high of $44.97 on 3 May.
The year 2022 has been difficult for most cryptocurrencies due to worries of a second crypto winter (an industry term for a long downturn in cryptocurrency prices) brought on by the most recent market crisis.
The token had an 81% fall, going from $17.81 on January 16 to its 52-week low of $3.37 on June 18.
After that, however, there was some upward movement, partly brought on by the purchase of Genie, the so-called first aggregator of non-fungible token (NFT) markets.
The following month, Uniswap news that the token will be listed on the Robinhood platform saw a run to $9.74 on July 28, helping UNI achieve a high of $6 on June 26.
However, since then, the price has decreased, and on September 1, 2022, it was selling at around $6.10.
If you're wondering why Uniswap is declining, it's primarily due to market factors.
How to read and predict Uniswap price movements?
It is important to note that all these predictions are not just the product of someone's imagination or wishful thinking but rely heavily on technical analysis.
Technical analysis involves using mathematical indicators to evaluate statistical trends to predict price direction in the crypto market. This is done by looking at past price changes and volume data to determine how the market works and predict how it will affect future price changes.
Even special calculators are available which perform such analyses online. In our opinion, the best is TradingView's calculator. It looks like this: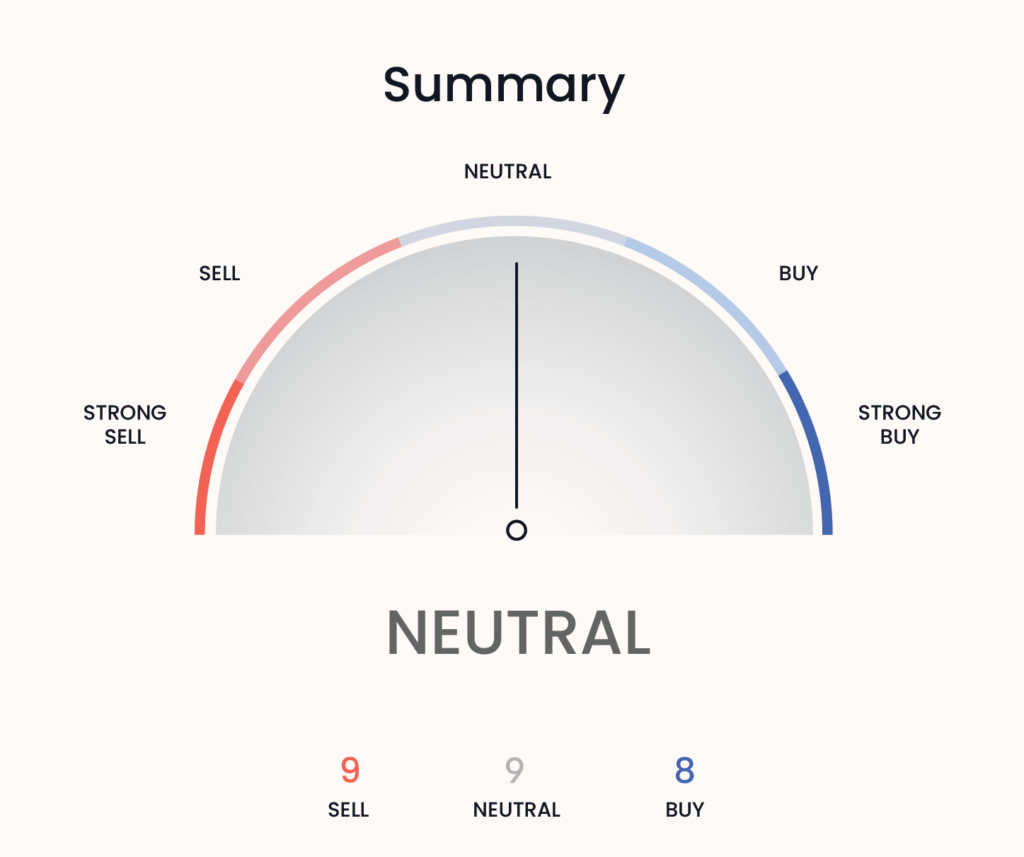 Technical analysis is very important, but you should not forget the opinion of experts, which we have already mentioned several times in this article. Thanks to their experience and very deep knowledge, these people can read the price movements of various cryptocurrencies, and Uni is no exception. Therefore, you can compare the results of technical analysis with expert opinions and get a relative picture, but remember that no one can predict with 100% accuracy. There are always risks.
What affects the price of Uniswap?
In this final section, we will look at the main factors that affect or may affect the price of the Uni token. Of course, in addition to the mentioned, many other objective factors can dramatically change the crypto market in general, affecting the price of Uni as well. And they should always be taken into account.
But these two factors refer specifically to Uniswap:
Inflation. At the very start, 1 billion UNI was created. 150 million UNI was given to past Uniswap users as an airdrop, and the rest is being given to the team, advisors, investors, and community over a four-year period. After this period, the inflation rate will always be 2% per year. This means that UNI is not a limited asset like Bitcoin, and its price could go down if its supply grows faster than its demand.
Governing. Another possible driver of UNI demand is its function as a governance token. UNI holders can vote on several Uniswap features, such as how the treasury funds are spent and what fees should go to liquidity providers. People who own UNI tokens could vote for a plan that gives them a share of the fees made by trading on Uniswap. This would make holding UNI more valuable, which would cause its price to go up.
FAQ
Does Uniswap have a future?
We believe in the bright future of Uniswap because it is a real cipher-enthusiastic project with many chances and liquidity for each user.
Why is Uniswap so good?
There are many benefits of using Uniswap over traditional cryptocurrency exchanges. Investors who use Uniswap can swap their cryptocurrencies directly from their Ethereum wallets, so there's no need for the exchange to have custody over their funds.
How high can Uniswap go?
According to some expert opinions, in 2030, the price of Uni may cross the threshold of $150
How much will Uniswap be worth in the year 2025?
You will find various predictions for 2025 under this article's "What will Uniswap be worth in 2025" topic.
Is Uniswap safe?
Uniswap Exchange is safe, as it operates as a decentralized exchange and liquidity pool and is built on Ethereum, meaning it has the same security as the Ethereum blockchain. Since it is decentralized, there is no central server to hack and gain access to users' funds.
How to predict cryptocurrency prices?
You can compare the results of technical analysis with expert opinions and get a relative picture, but remember that no one can predict with 100% accuracy.
What is the Uniswap price prediction for 2023?
You will find various predictions for 2023 within this article's "Uniswap Price Prediction" topic.
How is Uniswap correlated to other assets?
Unlike a typical exchange, there is no order book or central regulatory body on UNI, and you do not need to register for or validate your account.
Final Thoughts
As you can see from our article (and not only from ours), there is a positive expectation from the Uni token and its price dynamics among the whole community. This is mainly due to the fact that behind the Uni token. there is a very powerful Uniswap system, which is perhaps the best Decentralized Exchange. Plus, a very talented team and constantly rolling out updates and improvements. Of course, there are risks, the main one of which is, perhaps, strong competition. Still, considering all the pros and cons, we think Uni might be a good investment.
But, of course, you are the one who decides, and that decision must be made based on the results of your own research.
On the Blocktrade platform, it's easy to buy Uniswap tokens without any fees. Choose the exchange pair (we also do fiat transactions), fill in your wallet address, and that's it! Your UNI tokens will be in your wallet in a few minutes.